Published On : 2023-01-06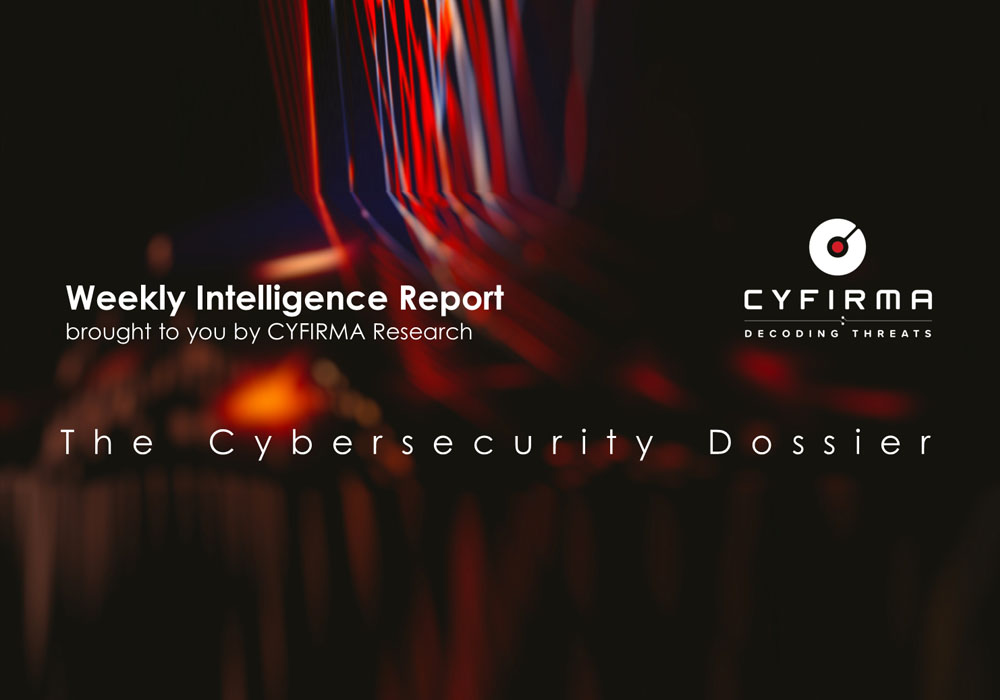 Weekly Intelligence Trends/Advisory
Key Intelligence Signals:
Attack Type: Ransomware, Vulnerabilities & Exploits, Ransomware-as-a-Service (RaaS), Malware Implants, Data Exfiltration, Data Leak, Impersonations, Remote Code Execution (RCE), On-device Fraud, Rouge Mobile Apps, Telephone-Oriented Attack Delivery (TOAD), Smishing, Malvertising, USB as an Attack Vector
Objective: Unauthorized Access, Data Theft, Financial Gains, Payload Delivery, Potential Espionage
Business Impact: Data Loss, Financial Loss, Reputational Damage, Loss of Intellectual Property
Ransomware – BlackCat Ransomware, Royal Ransomware | Malware – RisePro, Zerobot
BlackCat Ransomware – One of the ransomware groups.
Royal Ransomware – One of the ransomware groups.
Please refer to the trending malware advisory for details on the following:

Malware – RisePro, Zerobot
Behavior – Most of these malwares use phishing and social engineering techniques as their initial attack vector. Apart from these techniques, exploitation of vulnerabilities, defence evasion, and persistence tactics are being observed.
Threat Actor in Focus
North Korean APT BlueNoroff Unleashes Fresh Attack & Evades MOTW Protection
Suspected Threat Actors: BlueNoroff
Attack Type: Spear Phishing
Objective: Unauthorized Access, Financial gain
Target Technology: Windows
Target Geographies: Japan, Taiwan, and U.S.A
Target Industries: Private Sector
Business Impact: Data Loss, Financial Loss
Summary:
In a recent development, researchers uncovered cyber-attack campaigns launched against companies in various countries like the USA, UAE, Taiwan, and Japan. The threat actor is attacking with the sole purpose of financial gain, in past, the group had successfully compromised crypto targets and disappeared after stealing cryptocurrency. BlueNoroff is a subgroup of Lazarus group, that was seen delivering Visual Basic Script, a previously unseen Windows Batch file, and a Windows executable in recent campaigns. In a fresh attack, researchers observed malware with slight changes that bypassed Mark-of-the-Web windows protection. One of the victims from UAE received a malicious document that connects to the remote server and downloads the payload. In this case, the executable ieinstal.exe was used to bypass UAC. Upon infection, the threat actor executed several Windows commands to gather basic system information. They, then returned 18 hours later to install further malware with high privileges.
More than 70 domains were weaponized, which looked like venture capital and bank domains. Several domains were copies of Japanese venture capital companies, hinting that the group had more focus towards targeting Japanese financial entities.
Insights:
MOTW is a mitigation technique introduced by Microsoft. The threat actor developed malware to bypass MOTW
New finding shows, actor has introduced slight modifications to deliver their malware, which also hints towards more incoming targets.
North Korean APT Kimsuky Targets South Korean Policy Experts Using Ransomware
Suspected Threat Actors: Kimsuky
Attack Type: Spear Phishing, Ransomware Attack
Objective: Unauthorized Access, Cyber Espionage
Target Technology: Windows
Target Geographies: South Korea, U.S.A, and Japan
Target Industries: Government
Business Impact: Data Loss
Summary:
Kimsuky has been active since 2012, known for targeting think tanks, national security, foreign policy, and journalists across the Korean Peninsula. In the recent campaign, the threat actor dropped spear phishing emails from multiple email accounts impersonating governmental figures in Korea. The target was a journalist associated with the 20th Presidential Transition Committee in April, a secretary from the office of Tae Yong-ho of the ruling People Power Party in May, and an official from the Korean National Diplomatic Academy in October.
All emails had an attachment of a link to a fake website or an attachment carrying malware. As part of operation security, threat actors used IP addresses from compromised servers. The attackers consumed over 326 servers across 26 countries, 87 of which belonged to organizations within Korea.
Insight:
As per the report, the targeted individuals were part of diplomacy, defense, and security.
Major Geopolitical Developments in Cybersecurity
Cyber Command conducted offensive operations before U.S. midterm elections
General Paul Nakasone, the chief of Army Cyber Command and director of the National Security Agency, said that his command conducted both offensive and defensive operations in the lead up to the 2022 U.S. midterm elections. In 2018, US military hackers conducted cyber-attacks to protect U.S. networks and disrupted the Russian troll farm known as Internet Research Agency, run by President Putin's close aide Yevgeny Prigozhin, known also for his role as proprietor of Russian private army Wagner PMC. In 2020, the cyber command disrupted Iranian influence operations, in which Iranian agents posed as members of the far-right group Proud Boys in an attempt to upset and sway American voters. General Nakasone wouldn't say who the 2022 operations were aimed at or what kind of action the Cyber Command took specifically. Nakasone said that Cyber Command saw fewer threats against the midterm election than it had in the past, likely because of unrest in Russia, Iran, and China.
Russian hackers targeting healthcare
KillNet, the hacktivist auxiliary of the Russian government and a very active actor in cyberspace during the Russian war in Ukraine, has turned its attention to healthcare. The US Department of Health and Human Services, through its Health Sector Cybersecurity Coordination Center (HC3) has warned US hospitals and other healthcare providers that they should expect to receive attention from Russian hackers, with specifically pointing out KillNet. KillNet has previously targeted, or threatened to target, organizations in Healthcare and while most attacks disrupted record keeping or threatened data confidentiality, KillNet has threatened to compromise medical devices as well.
The group, most known for launching coordinated distributed denial-of-service (DDoS) attacks, targeted multiple counties supporting Ukraine in the recent months and while the majority of its activity has been on the nuisance level in the government sector and its threats should be taken with some reservations, the group still represents a real threat.
Poland warns of spike in Russian offensive cyber activity
The government information security agency of Poland (Government Plenipotentiary for the Security of Information Space) warned over the weekend that Russian cyberattacks against third-party countries that have supported Ukraine during Russia's war can be expected to increase. Russian hackers have targeted Polish transportation infrastructure with Prestige malware last fall and Russian activity has been observed in critical infrastructure and energy installations in numerous Western countries during last year. The agency stated, "Hacker groups linked to the Kremlin use ransomware, DDoS and phishing attacks, and the goal of hostile actions coincides with the goals of a hybrid attack: destabilization, intimidation and sowing chaos."
Portuguese port hit by ransomware
According to media reports, Portugal's Port of Lisbon sustained a ransomware attack. The extent of the attack is not clear, though port officials stated that operational activity was not compromised. Responsibility has been claimed by LockBit, a notorious ransomware gang, who also claims to have stolen financial data, cargo, crew and customer information or email correspondence. The gang is threatening to publish the stolen data if the ransom isn't paid in time.
European ports were recently singled out by US cyber officials as potential weak points in European defense, as a lot of defense logistical chains depend on maritime shipping of weaponry from mainland US, which is manifested in the current conflict Russia is waging on Ukraine. A potential cyber-attack on the German ports of Bremerhaven or Hamburg would severely impede NATO efforts to send military reinforcements to allies. The attack on the port of Lisbon seems to be a purely criminal endeavor. However, the attackers might have gained potentially sensitive data, as Portugal is a founding member of NATO, and its infrastructure has historically been used by the US military.
Other Observations
CYFIRMA Research team observed threat actors selling multibillion-dollar insurance company VPN, Admin, and Root access. This access was sold for 360,000 USD.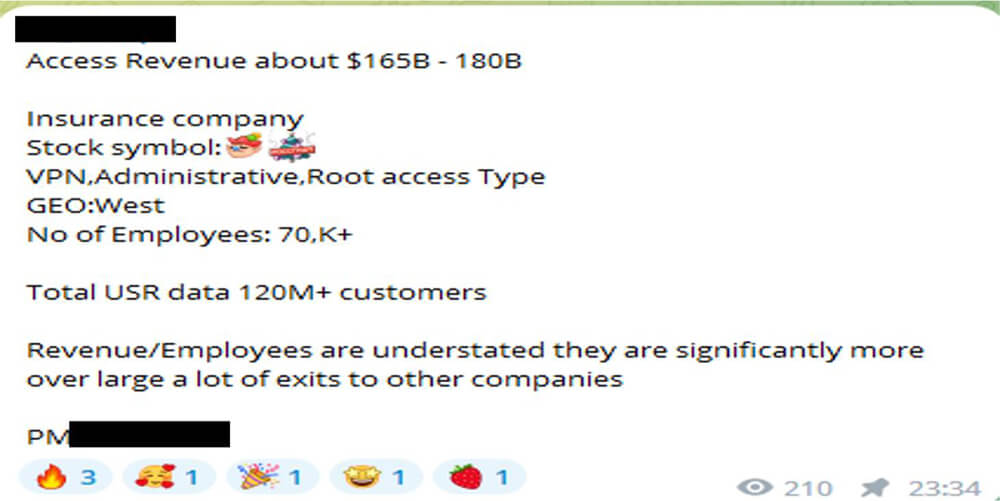 Source: Telegram
According to Japanese media reports, the police of this country have succeeded in decrypting encrypted data using Lockbit ransomware. The description and method of this work has not been published. In response to this news, LockBit's spokesperson called this news a rumor of yellow magazines and announced that this is old and related to version 2 of LockBit.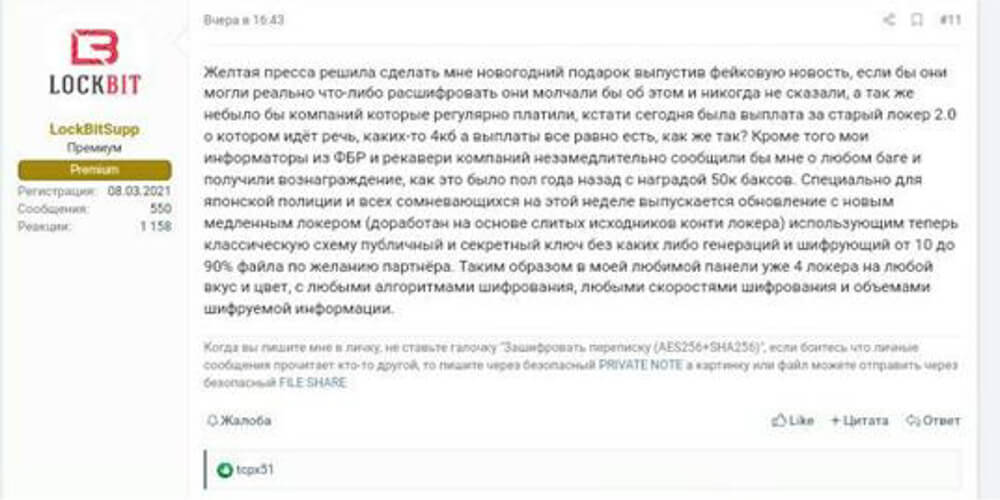 Source: Underground forum
Ever since the Twitter DB information leaked, it has been a field day for SIM swappers and scammers. We obseraved several celebrities' accounts getting compromised.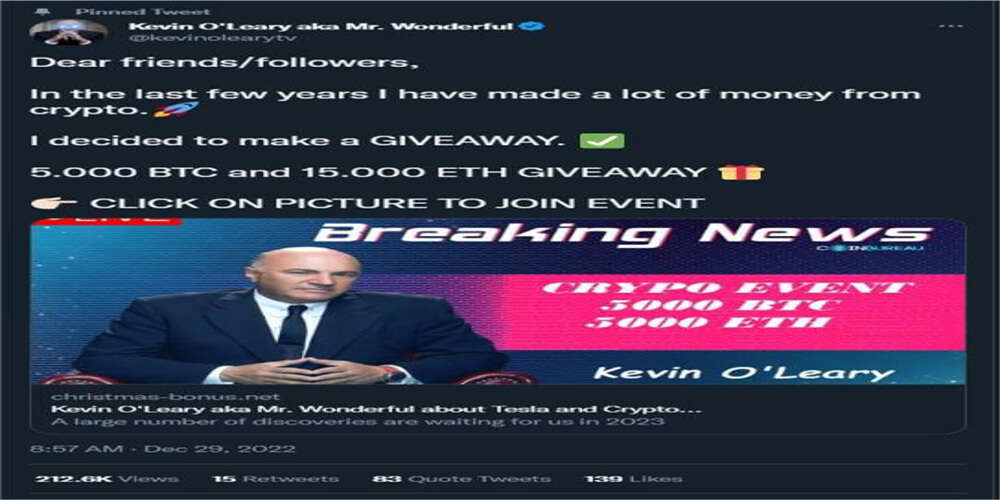 Source: Twiter
Inidia Railways 30 Million user data was advertised for sale in underground forum.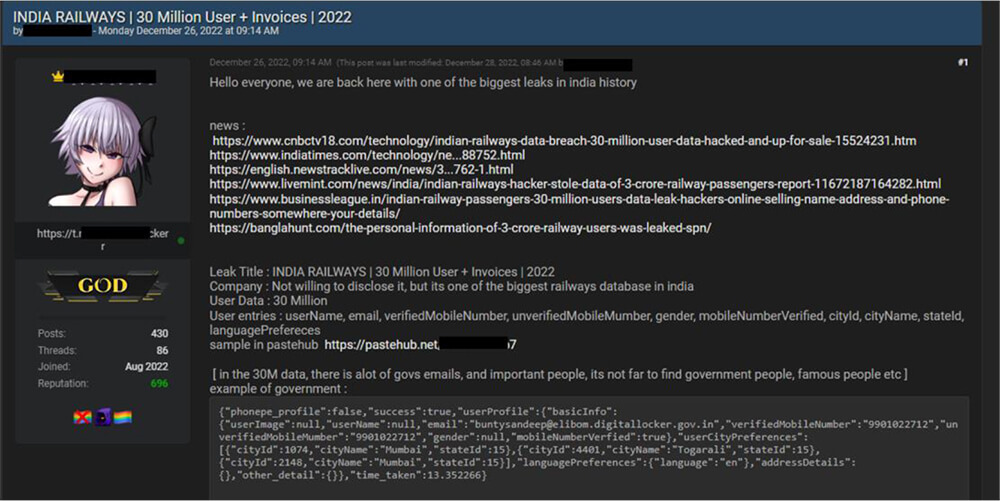 Source: Underground Forums
JP Performance GmbH, a large German YouTube channel with over 2,270,000 followers has been compromised. The YouTube account has changed its name to "TheTeslaWorld" and is actively pushing a Bitcoin scam. Threat actors possibly target corporate-backed social media accounts to conduct their cybercrime activities. Corporations need to strengthen their security; to protect their social media accounts; to avoid reputational damage.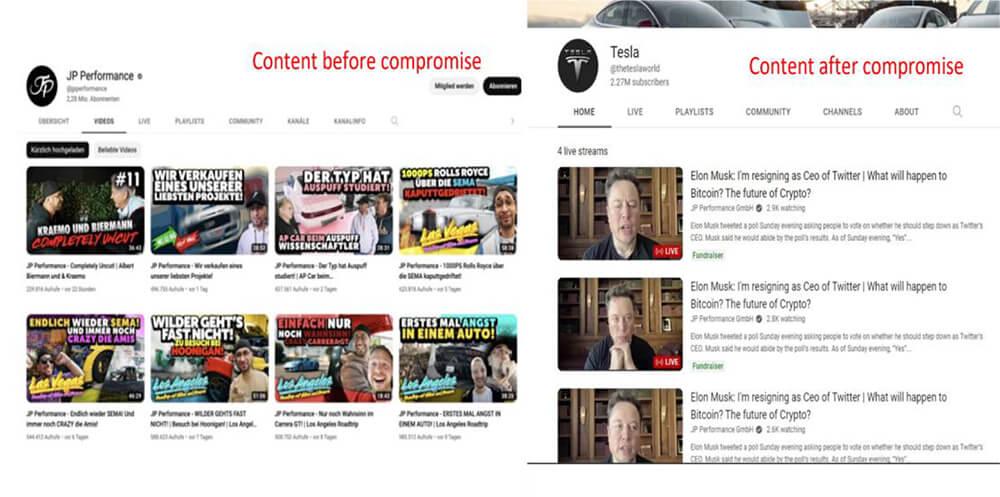 Source: Telegram
STRATEGIC RECOMMENDATION
Attack Surface Management should be adopted by organizations, ensuring that a continuous closed-loop process is created between attack surface monitoring and security testing.
Deploy a unified threat management strategy – including malware detection, deep learning neural networks, and anti-exploit technology – combined with vulnerability and risk mitigation processes.
Incorporate Digital Risk Protection (DRP) in the overall security posture that acts as a proactive defence against external threats targeting unsuspecting customers.
Implement a holistic security strategy that includes controls for attack surface reduction, effective patch management, active network monitoring, through next generation security solutions and ready to go incident response plan.
Create risk-based vulnerability management with deep knowledge about each asset. Assign a triaged risk score based on the type of vulnerability and criticality of the asset to help ensure that the most severe and dangerous vulnerabilities are dealt with first.
MANAGEMENT RECOMMENDATION
Take advantage of global Cyber Intelligence providing valuable insights on threat actor activity, detection, and mitigation techniques.
Proactively monitor effectiveness of risk- based information security strategy, the security controls applied and the proper implementation of security technologies, followed by corrective actions remediations and lessons learned.
Move beyond traditional model of security awareness towards improved simulation and training exercises that mimic real attack scenarios, account for behaviours that lead to a compromised and, are measured against real attacks the organization receives.
Consider implementing Network Traffic Analysis (NTA) and Network Detection and Response (NDR) security system to compensate the shortcoming of EDR and SIEM solutions.
Detection processes are tested to ensure awareness of anomalous events. Timely communication of anomalies and continuously evolved to keep up with refined ransomware threats.
TACTICAL RECOMMENDATION
Patch software/applications as soon as updates are available. Where feasible, automated remediation should be deployed since vulnerabilities are one of the top attack vectors.
Consider using security automation to speed up threat detection, improved incident response, increased visibility of security metrics and rapid execution of security checklists.
Build and undertake safeguarding measures by monitoring/ blocking the IOCs and strengthen defences based on tactical intelligence provided
Deploy detection technologies that are behavioural anomaly-based to detect ransomware attacks and help to take appropriate measures.
Implement combination of security control such as reCAPTCHA (Completely Automated Public Turing test to tell Computers and Humans Apart), Device fingerprinting, IP backlisting, Rate-limiting, and Account lockout to thwart automated brute-force attacks.
Ensure email and web content filtering uses real-time blocklists, reputation services and other similar mechanism to avoid accepting content from known and potentially malicious sources.