Published On : 2023-01-05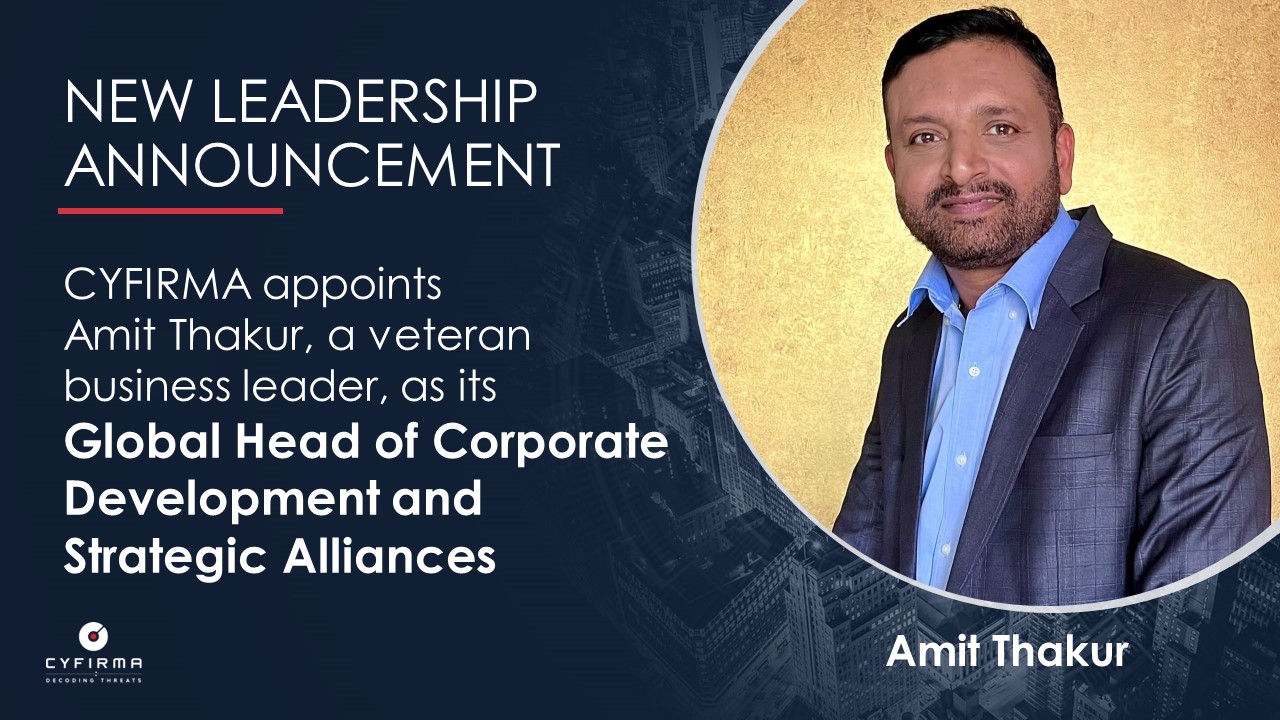 Singapore – Jan 05, 2023 – CYFIRMA, an external threat landscape and cyber-intelligence platform company, with business operations across APAC, EMEA and the US, today announced that it has named business leader Amit Thakur as its Global Head of Corporate Development and Strategic Alliances.
In this newly created role, Amit will spearhead the company's growth ambitions by harnessing the power of partnerships. He will grow the partner ecosystem to drive innovation, scale, and trust in CYFIRMA's products and brand. The role will also uncover partners where CYFIRMA's technology is embedded into many different products, solutions and industry verticals, making it ubiquitous and driving greater impact.
Amit will also bring systems thinking and governance framework into the company to help strengthen operational processes in preparation for CYFIRMA's next stage of growth.
Prior to joining CYFIRMA, he was the head of strategic partnerships for GoDaddy where he was instrumental in building government relations and establishing GoDaddy as a trusted partner on a national level. Amit also pioneered the GoDaddy Academy to equip youths with digital skills and went on to develop the education sector for GoDaddy. As a business builder, he has also applied his expertise in his previous leadership roles at WeWork, Intuit and Laureate Education, helping them scale globally. Amit's strong credentials and proven success in helping companies cross the chasm from lean start-ups to high-growth firms put him in good stead for success.
"Amit will lead the mission of building a reporting structure that will set us up for success, define guiding principles to allow us all to do our best work, and design a governance framework that supports our growth ambitions. He is a proven leader in building new businesses and brings with him his deep relationships and deal-making expertise. Amit will be an invaluable member of CYFIRMA. We are excited to have him on board and look forward to his contribution," said Kumar Ritesh, Founder and CEO, CYFIRMA.
Amit reports directly to the CEO and his role starts with immediate effect.
ABOUT CYFIRMA
CYFIRMA is an external threat landscape management platform company. We combine cyber intelligence with attack surface discovery and digital risk protection to deliver early warning, personalized, contextual, outside-in, and multi-layered insights. Our cloud-based AI and ML-powered analytics platforms provide the hacker's view with deep insights into the external cyber landscape, helping clients prepare for impending attacks. CYFIRMA is headquartered in Singapore with operations in APAC, EMEA and USA.  The company is funded by Goldman Sachs, Zodius Capital, and Z3 Partners.