Published On : 2022-08-15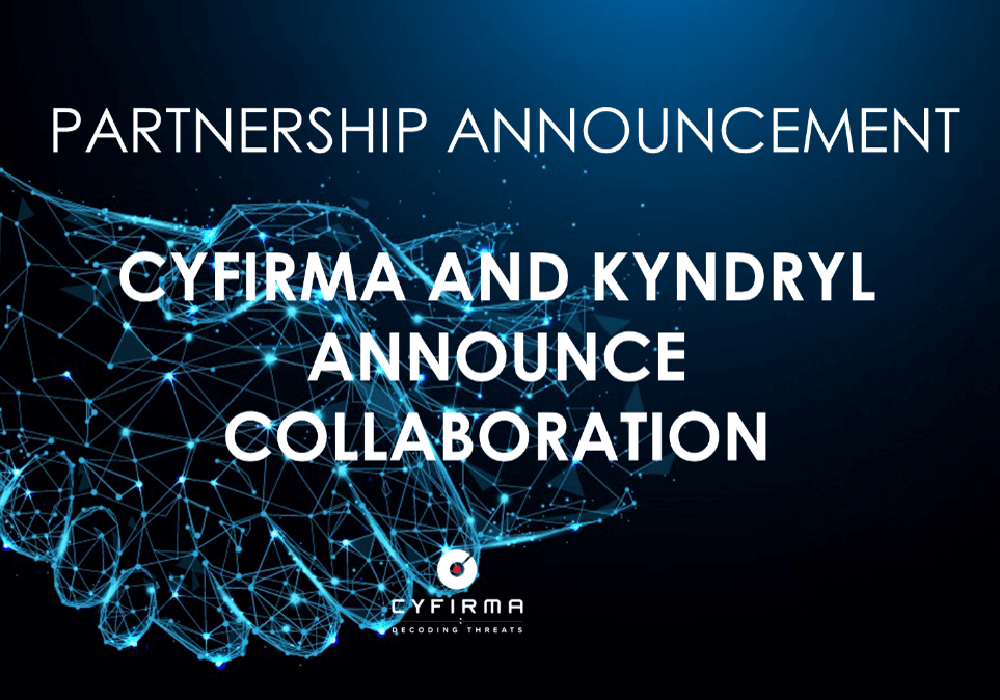 Kyndryl and CYFIRMA Announce Partnership to Bring External Threat Landscape Management to Japan Customers
CYFIRMA to visualize security risks and cyber threats with DeCYFIR while Kyndryl provides cybersecurity expertise and consulting services to customers' IT and security operations in Japan
Tokyo – August, 15th, 2022 – Kyndryl (NYSE: KD), the world's largest IT infrastructure services provider, and CYFIRMA today announced a collaboration to serve Japan customers with CYFIRMA's external threat landscape management platform DeCYFIR with Kyndryl's expertise and consultation services, IT operations and security operations support to advance Japan customers' cybersecurity. Kyndryl will deliver services for CYFIRMA technology in Japan.
To enhance cyber resilience for companies, there is an increasing need not just to implement various security solutions, but also to provide threat intelligence which enables companies to analyze and respond to threats. It is ever more important for companies to observe and analyze their enterprise from the malicious attackers' perspective and to understand the likely attack vectors within the enterprise. While cutting-edge experts are constantly sought after in the complex and rapidly changing cybersecurity space, there is a chronic personnel shortage and the difficulty in developing such talent in-house. Companies are calling for personnel support with expertise in cyber resilience. Kyndryl is well poised to provide expertise and professional services with respect to cyber resilience, the ability to anticipate, protect, withstand from, and recover from any compromise to IT-enabled business.
DeCYFIR is CYFIRMA's core platform empowering defenders with external threat landscape visibility. DeCYFIR arms governments and businesses with personalized intelligence where insights are tailored to their industry, geography and technology. DeCYFIR provides customers with multi-layered intelligence covering strategic, management and operational insights. DeCYFIR is built with the capability to combine cyber intelligence with attack surface discovery, vulnerability intelligence, brand intelligence, situational awareness and digital risk protection on a single pane of glass. With this collaboration, clients will also receive insights that will enable them to conduct effective intelligence hunting and attribution, connecting the dots between the hackers, their motive, campaign and method to gain a comprehensive view of their threat landscape.
"We are thrilled to be collaborating with Kyndryl, the world's leading infrastructure services provider, to deliver a new approach to cybersecurity strategies that can address the fast-evolving threat landscape. We want to help enterprises overcome one of the most pressing challenges they are facing today – cyber risk that would derail a company's ability to serve its stakeholders. The solution lies in using an 'intelligence-led' approach where insights from our core platform DeCYFIR, can be leveraged to enhance security controls and ensure customers are protected from malicious threats. With Kyndryl's extensive reach, we know we can put DeCYFIR into the hands of many more defenders and do our part to make the world's digital businesses and ecosystems safe from the disruptive forces of cyberattacks," said Kumar Ritesh, Founder and CEO of CYFIRMA.
Security and Resiliency is one of six global practice areas for Kyndryl. The global practice is responsible for ensuring a customer's Cyber Resilience, the ability to anticipate, protect, withstand from, and recover from any compromise to IT-enabled businesses. Based on Kyndryl's extensive experience with operating complex and mission-critical IT infrastructures, and providing advanced skills and expertise particularly for recovery, Kyndryl will provide support services for customer IT and security operations in Japan that are using CYFIRMA's external threat landscape management platform, DeCYFIR.
Under the collaboration, Kyndryl's services will include visualizing security risks and threats to manage external attack surface, setting orders of priority for digital risks, use of IOC information, and answering inquiries. In addition, Kyndryl will provide safe, secure, and stable IT infrastructure and protect organizations from threats, as well as responding with recovery efforts.
"In order to deal with the complexity of IT infrastructure due to the accelerated use of cloud and migration to hybrid cloud, as well as the ever-evolving security threats, more advanced IT operations will help customers build better business resiliency," said Takashi Uesaka, President of Kyndryl Japan. "CYFIRMA's excellent threat intelligence platform DeCYFIR and Kyndryl's experience in supporting the stable operation of customer systems for many years will see the experts with deep knowledge in IT infrastructure and cybersecurity providing consulting to system construction and operation. In addition to predicting and defending against severe threats, Kyndryl Japan supports security measures that focus on the entire system, from response to recovery. In this way, Kyndryl will help reduce the burden of customers' intelligence operations and support the strengthening and expansion of their security management foundations quickly and flexibly."
Kyndryl will help enable cloud security — from consulting to deployment and operation — regardless of vendor. Kyndryl will also leverage its in-depth knowledge of governance and security system operations to support customers who are faced with the shortage of IT and cybersecurity experts.
About Kyndryl
Kyndryl (NYSE: KD) is the world's largest IT infrastructure services provider. The company designs, builds, manages, and modernizes the complex, mission-critical information systems that the world depends on every day. Kyndryl's more than 90,000 employees serve over 4,000 customers in more than 60 countries around the world, including 75 percent of the Fortune 100. For more information, visit www.kyndryl.com.
About CYFIRMA
CYFIRMA is an external threat landscape management platform company. We combine cyber intelligence with attack surface discovery and digital risk protection to deliver the early warning, personalized, contextual, outside-in, and multi-layered insights. Our cloud-based AI and ML-powered analytics platform provide the hacker's view with deep insights into the external cyber landscape, helping clients prepare for impending attacks. CYFIRMA is headquartered in Singapore with offices in Japan, India, US, and EU. The company is funded by Goldman Sachs, Zodius Capital, and Z3 Partners. www.cyfirma.com/