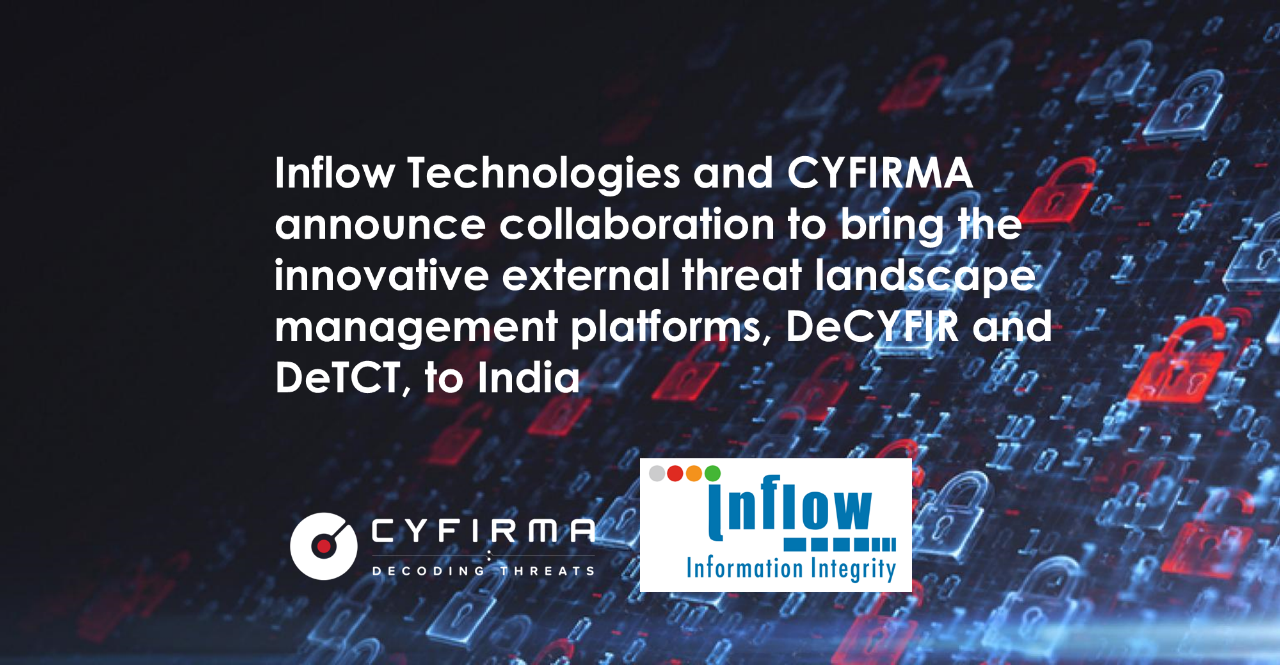 Inflow Technologies and CYFIRMA announce collaboration to bring the innovative external threat landscape management platforms, DeCYFIR and DeTCT, to India
Bengaluru, India – May 10, 2022 – CYFIRMA, a Singapore-headquartered external threat landscape and cyber-intelligence platform company, having its research and operations hub in India, and business operations in APAC, the US and EMEA, today announced its appointment of Inflow Technologies as its distributor in South Asia. With this appointment, CYFIRMA has expanded its network of partner resellers and MSSPs to serve one of the largest and fastest-growing Asian countries that are leading the way in digital adoption and transformation.
Inflow Technologies is the leading distributor providing Cybersecurity, Networking, Unified Communications and Collaboration, AIDC & POS, Infrastructure & Application Software, Storage Management and Electronic Security products & related Services in South Asia with a revenue run-rate of USD 370+ Million. Headquartered in Bengaluru, Inflow Technologies is present in 15 locations and known for bringing in innovative technology that can help organizations unlock their digital potential. The selection of CYFIRMA's external threat landscape management platform, DeCYFIR, and digital risk discovery and protection platform, DeTCT, will help businesses address the complexity of managing cyber threats in a fast-evolving environment.
Businesses and channel partners globally have recognized the importance of external threat visibility and the predictive intelligence provided by CYFIRMA's platforms to manage risk not addressed by conventional security control tools and fragmented point product security solutions. With Inflow Technologies, the company will tap into its network of 2300 partners across the country and lean on its go-to-market expertise to scale the business at an accelerated pace.
"We are honoured to work with Inflow Technologies as our distributor for the India region. Their strong channel and customer coverage in the local market paves the way for us to realize our vision of having DeCYFIR and DeTCT as the de facto external threat intelligence platforms protecting businesses from current and emerging threats," said Kumar Ritesh, Founder and CEO, CYFIRMA.
"CYFIRMA is clearly differentiated in the industry as the only cyber-intelligence company with the capability to offer six threat views on a single pane of glass. These threat views are attack surface discovery, vulnerability intelligence, brand intelligence, digital risk discovery, situational awareness and cyber-intelligence. And together, they work to provide important insights to customers, alerting them to impending cyberattacks so they can take remedial actions before an attack is in full swing. The platform gives customers a unique view through the hacker's lens and performs the much-needed role of predicting impending attacks. DeCYFIR and DeTCT are game-changers and help our customers turn the tables on their cyber adversaries," adds Ritesh.
"We are excited to partner with CYFIRMA as it reinforces our commitment to deliver the world's leading IT security products to the Indian market. Traditional methods of responding to cyber incidents will not longer be sufficient to counter the highly resourceful and creative hacker. With CYFIRMA, businesses can for the first time have complete visibility into their external threat landscape while reducing the total cost of ownership and time to value of their security investments. CYFIRMA has a revolutionary approach to managing cybersecurity and we are proud to be part of this journey," said Rajesh Kumar, Vice President, Inflow Technologies.
About CYFIRMA
CYFIRMA is an external threat landscape management platform company. We combine cyber intelligence with attack surface discovery and digital risk protection to deliver early warning, personalized, contextual, outside-in, and multi-layered insights. Our cloud-based AI and ML-powered analytics platform provides the hacker's view with deep insights into the external cyber landscape, helping clients prepare for impending attacks. CYFIRMA is headquartered in Singapore with operation in APAC, EMEA and USA. The company is funded by Goldman Sachs, Zodius Capital, and Z3 Partners.
Learn more: https://www.cyfirma.com/
About Inflow Technologies
Inflow Technologies was founded in the year 2005 and is headquartered in Bangalore. A niche player in the IT Distribution Services market in India / South Asia. Inflow Technologies addresses the growing needs of organizations to manage and secure information more effectively and intelligently. The team at Inflow Technologies are well-versed with the latest and the most powerful technologies available today for locating, organizing, managing, retrieving, analyzing, protecting, and presenting the information.
Being a VAD (Value Add Distributor), we cater to Cyber Security, Unified Communications and Collaboration, Networking, Automatic Identification and Data Capture & POS, Infrastructure & Application Software, Storage Management, Electronic Security products & related Services in South Asia.
We have direct relationships with 40+Global Technology vendors, have a strong channel of 2300+ partners, offering one or more solutions to 7000+ end customers.
Learn More: https://www.inflowtechnologies.com