Published On : 2023-04-13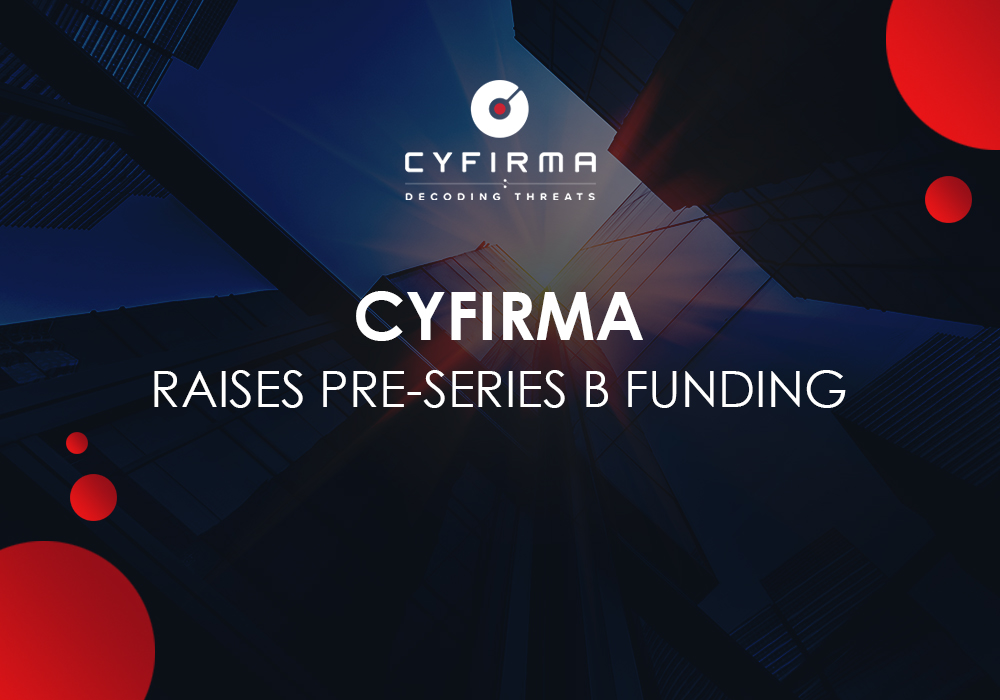 CYFIRMA, a leading external threat landscape management co, with this Pre-Series B round, has raised USD 18 million to-date.
Funds raised to be used for product innovation, global market expansion and brand building.
To help customers navigate the increasingly complex threat landscape, CYFIRMA has redefined threat intelligence beyond static data feeds to encompass predictive, contextualized, and actionable insights that enable organizations to gain full visibility of their digital assets, attack surface, and vulnerabilities.
Company has built a platform that analyzes threat indicators from multiple sources, including dark net to give actionable insights on imminent attacks, enterprises use the intelligence to mitigate risks across both technology and non-technology domains and stay one step ahead of cyber criminals.
Singapore/Tokyo/Mumbai, April 13, 2023 – CYFIRMA, a leading external threat landscape management company has raised a Pre-Series B round funding from Israel's most active venture fund OurCrowd and India's multinational conglomerate Larsen & Toubro's L&T Innovation Fund. With this, these firms join CYFIRMA's existing investors Goldman Sachs, Zodius Capital, and Z3 Partners. With the closing of this round, CYFIRMA has raised nearly USD18M to date.
The funds raised will be used for product innovation and entering new global markets in North America, Europe and MENA region in addition to growing the existing markets in SEA, including India, Singapore and Japan. The funds will also be utilized for hiring across verticals and in brand building.
Kumar Ritesh, Founder and CEO, CYFIRMA, says: "Adding OurCrowd and L&T Innovation Fund to our capital table is exactly what we need to take our company to the next level. We recognize the critical role that Israel plays in the cybersecurity market in delivering groundbreaking technology and OurCrowd has been at the forefront of cybersecurity innovation, with a rich history of making markets and helping create some of the most successful startups in the industry. By partnering with them, CYFIRMA will benefit from an unparalleled wealth of knowledge and experience, allowing us to continue advancing our platforms."
"Larsen & Toubro represents one of the most forward-thinking technology and infrastructure companies. It holds deep expertise in engineering, industrial, construction and IT industries, and is known for delivering innovative products and solutions that include platforms for AI, 5G, smart buildings, and much more. L&T brings strategic value to CYFIRMA and will accelerate our business growth through its market and segment reach as well as domain expertise," he added.
To deter the ever-increasing sophisticated cyberattacks, businesses must gain deep insights into the environment to better understand their unique external threat landscape. By combining cyber intelligence with attack surface discovery and digital risk protection, CYFIRMA's cloud native, non-intrusive SaaS platform gives customers predictive, personalized, contextual, outside-in, and multi-layered insights in a single pane of glass.
Commenting on the fund raise, Mr R Shankar Raman, CFO & Whole-time Director, L&T, says: "At L&T, we harness technology to address pressing challenges facing various industries in their digital transformation journey and we recognize the critical role cybersecurity plays in this. CYFIRMA has a proven record of helping businesses mitigate potentially crippling attacks so that digital innovation can flourish. It is an excellent example of the type of company our fund was built to support. We are now here to accelerate CYFIRMA's global reach and bring their platform to businesses around the world."
Eli Nir, Senior Investment Partner, OurCrowd, says: "At OurCrowd, we are always on the lookout for exciting startups that push the boundaries and pave the way towards a better future for all. We believe in investing in solutions that solve difficult problems, and CYFIRMA has demonstrated an unwavering commitment to this mission. We firmly believe that the team at CYFIRMA has the talent and vision to revolutionize the cybersecurity landscape, and we are eager to provide our support, resources, and funding to help them reach their goals. We are thrilled to be part of this exciting journey, and we look forward to contributing to their growth and success in the years to come."
ABOUT CYFIRMA
CYFIRMA is an external threat landscape management platform company. We combine cyber intelligence with attack surface discovery and digital risk protection to deliver early warning, personalized, contextual, outside-in, and multi-layered insights. Our cloud-based AI and ML-powered analytics platforms provide the hacker's view with deep insights into the external cyber landscape, helping clients prepare for impending attacks. CYFIRMA is headquartered in Singapore with offices in Japan, India, the US, and the EU. Customers include both government as well as Fortune 500 companies across manufacturing, financial services, retail, industrial products, natural resources and pharmaceutical industries.
Media Contact:
Anna Koh
[email protected]