Published On : 2021-08-03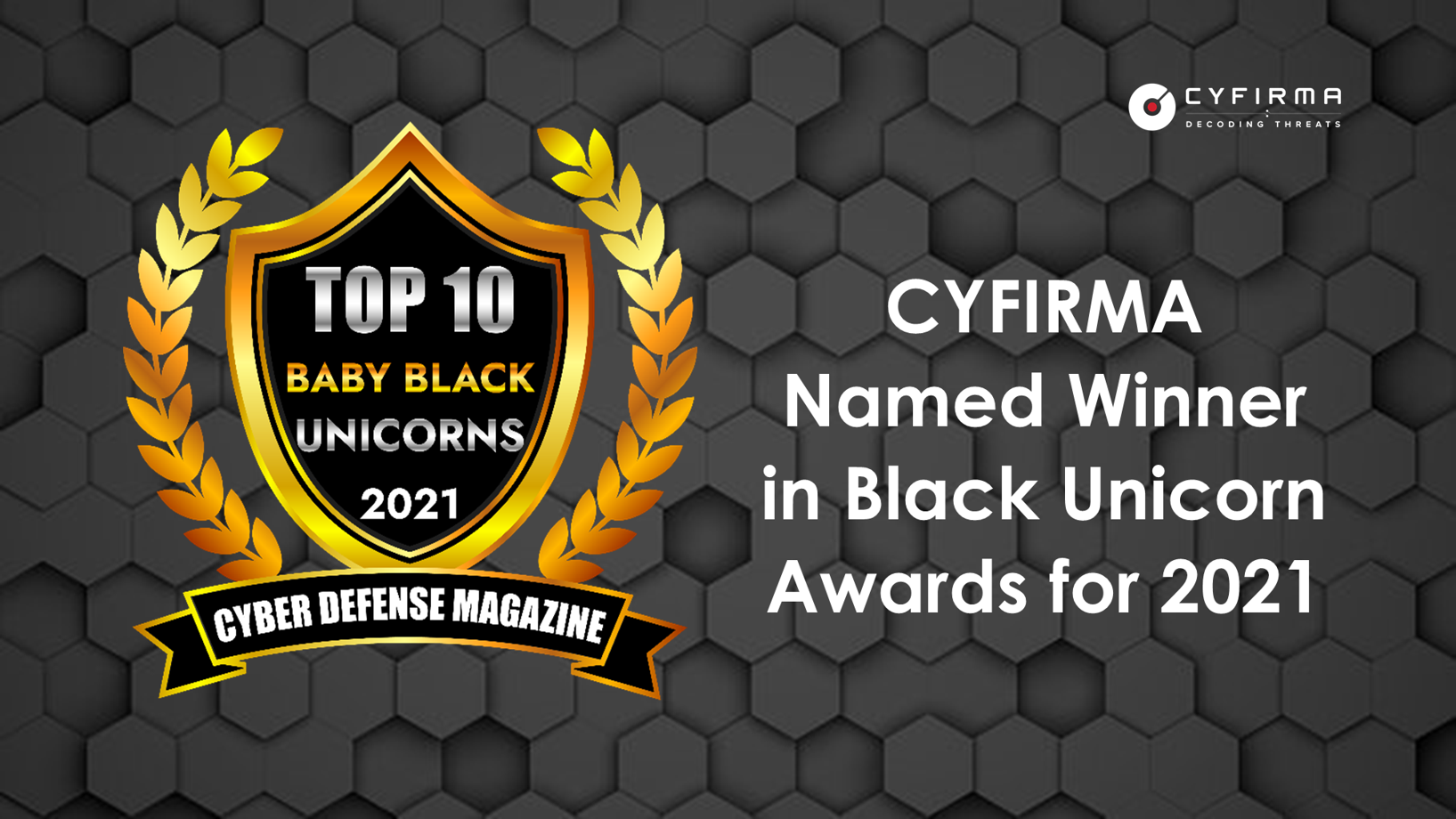 CYFIRMA Named Winner in Black Unicorn Awards for 2021
CYFIRMA Named Top 10 Baby Black Unicorn in Most Prestigious Awards for Cybersecurity Companies Who Have the Potential of Being Valued at $1B
SINGAPORE | TOKYO, JAPAN, AUG 3, 2021 – CYFIRMA, a threat discovery and cyber-intelligence platform company funded by Goldman Sachs, Zodius Capital and Z3Partners today announced that it has been named a winner in the Black Unicorn Awards for 2021 in the sub-category of Top 10 Baby Black Unicorns for 2021.
CYFIRMA competed against many of the industry's leading providers of cybersecurity products and services for this prestigious award.  The term "Baby Black Unicorn" signifies a cybersecurity company that has the potential to reach a $1 billion dollar market value within 3-5 years (a few years longer than a Black Unicorn) as determined by private or public investment (Source: https://en.wikipedia.org/wiki/Unicorn_(finance)) and these awards showcase those companies with this kind of incredible potential in the cybersecurity marketplace.
"We're pleased to name CYFIRMA as a winner among a small, elite group of cybersecurity industry leaders in our third annual Black Unicorn awards," said Judges Robert R. Ackerman Jr. of www.allegiscyber.com, David DeWalt of www.nightdragon.com, Dr. Peter Stephenson of Cyber Defense Labs and Gary Miliefsky of www.cyberdefensemediagroup.com.
This award comes at a time when the company has just launched DeTCT, a digital risk protection platform that provides continuous monitoring for attack surfaces, vulnerabilities and data breaches and leaks. DeTCT helps clients comply with regulatory policies and detect social engineering and phishing campaigns exploiting fictitious company profiles or executives' social media handlers.
The company's core product, DeCYFIR, has continued its growth momentum, adding many large enterprise clients and government bodies to its list of subscribers. As a threat discovery and cyber-intelligence platform, DeCYFIR gives business and security leaders a unified view into six threat pillars – attack surface discovery, vulnerability intelligence, brand intelligence, digital risk discovery, situational awareness, and cyber-intelligence. With this single pane of glass, clients receive insights to connect the dots between hacker, campaign, motive and method, and are equipped to predict imminent cyber threats and attacks.
"This unprecedented year has reinforced the importance of cybersecurity and we are thrilled that the market has started to embrace our perspective on the need to shift from event-based security to predictive cyber-intelligence. While we are focused on building our business, we are even more steadfast in our mission to enable organisations to flourish in digital spaces without cyber threats jeopardizing their recovery and growth. This award has spurred us to accelerate our innovation and scale our ideas to bring more businesses into the digital economy securely," said Kumar Ritesh, Founder & CEO of CYFIRMA.
About CYFIRMA
CYFIRMA is a threat discovery and cyber-intelligence platform company. We combine cyber intelligence with attack surface discovery and digital risk protection to deliver predictive, personalized, contextual, outside-in, and multi-layered insights. We harness our cloud-based AI and ML-powered analytics platform to help organizations proactively identify potential threats at the planning stage of cyberattacks. Our unique approach of providing the hacker's view and deep insights into the external cyber landscape help clients prepare for upcoming attacks.
CYFIRMA works with many Fortune 500 companies. The company has offices located in the USA, Japan, Singapore and India.
Official website: https://www.cyfirma.com/
About Cyber Defense Awards
This is Cyber Defense Magazine's 9th year of honoring cybersecurity innovators, in this case the Black Unicorn Awards for 2021 on our Cyber Defense Awards platform. In this competition, judges for these prestigious awards includes cybersecurity industry veterans, trailblazers and market makers Gary Miliefsky of CDMG, Dr. Peter Stephenson of CDMG, Robert R. Ackerman Jr. of Allegis Cyber and David DeWalt of NightDragon with much appreciation to emeritus judge Robert Herjavec of Herjavec Group.  To see the complete list of finalists for the Black Unicorn Awards for 2021 please visit https://cyberdefenseawards.com/black-unicorn-awards-finalists-2021/
About Cyber Defense Magazine
Cyber Defense Magazine was founded in 2012 by Gary S. Miliefsky, globally recognized cyber security thought leader, inventor and entrepreneur and continues to be the premier source of IT Security information. We are managed and published by and for ethical, honest, passionate information security professionals. Our mission is to share cutting-edge knowledge, real-world stories and awards on the best ideas, products and services in the information technology industry. We deliver electronic magazines every month online for free, and limited print editions exclusively for the RSA, BlackHat and IPEXPO conferences and our limited edition paid reprint subscribers. Learn more about us at http://www.cyberdefensemagazine.com. Cyber Defense Magazine is a proud member of the Cyber Defense Media Group (CDMG).
###
For Media Inquiries: [email protected]