Published On : 2023-03-13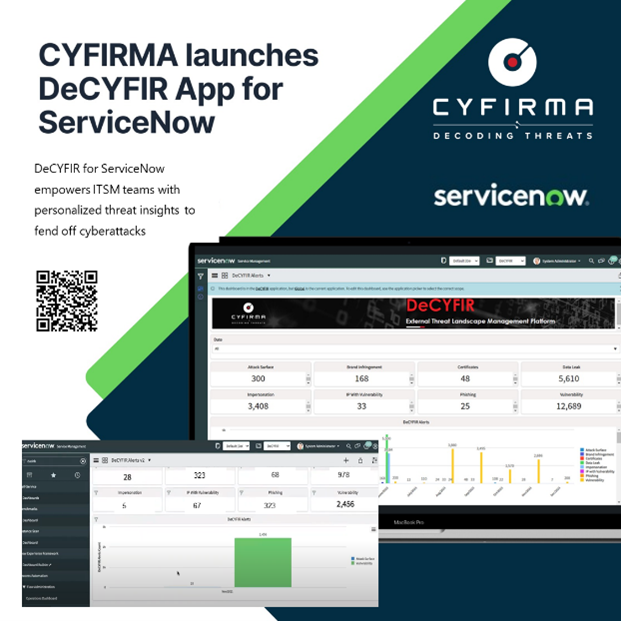 Announcement
CYFIRMA Launches DeCYFIR for ServiceNow App
The integration gives technology leaders much-needed insights into their external threat landscape, arming them with crucial intel to implement swift actions on security controls before a cyber invasion cause irreparable damage
DeCYFIR for ServiceNow app empowers ITSM teams with relevant cyber threat insights so they are equipped to take remedial actions to keep attackers at bay.
With DeCYFIR, cybersecurity teams receive deep insights related to hackers, motives, campaigns and methods, helping them stay ahead of cybercriminals.
The intel from DeCYFIR removes noise as the rich insights are tailored to the defender's industry, geolocation, and technology stack, ensuring the data in the ServiceNow telemetry is always personalized, relevant and up-to-date.
With DeCYFIR for ServiceNow app, the team gains exponential efficiency across the entire ITSM workflow by acquiring the capability to scale security across the organization including people, process and technology.
Learn more about the DeCYFIR App for ServiceNow today:
#DeCYFIR #Cybersecurity #ITSM #itservicemanagement #externalthreatlandscape #threatintelligence #cyberintelligence #securitymanagement #cyberattack #cyberthreats #digitalrisk