Published On : 2022-11-15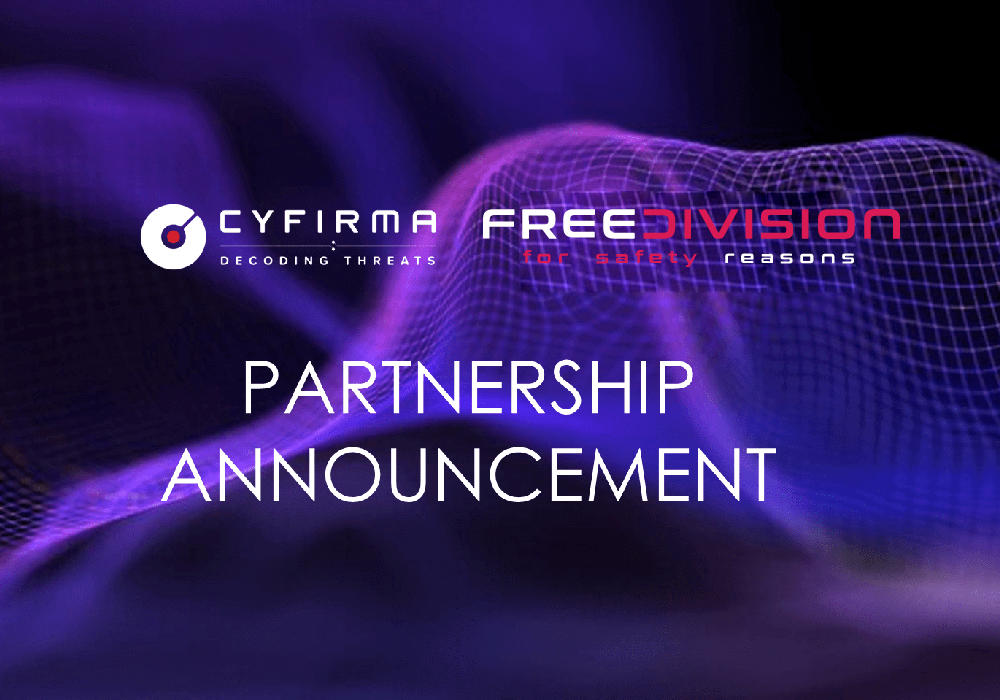 Frankfurt, Germany, Nov 15, 2022 – As part of its market expansion plan, CYFIRMA, an external threat landscape management company, funded by Goldman Sachs, Zodius Capital and Z3Partners, today announced its new strategic partnership with the FreeDivision s.r.o., a leading managed security service provider in Eastern Europe.
With a robust portfolio of innovative cybersecurity solutions, FreeDivision s.r.o. offers the most advanced security controls technology to government and enterprises across the region. Its suite of endpoint security, managed security solutions, next-generation firewall, next- generation SIEM, advanced threat protection solutions, and data management products will now be complemented with CYFIRMA's digital risk monitoring and protection platform under the product brand 'DeTCT.'
DeTCT helps clients uncover their attack surfaces, know their vulnerabilities, be alerted to data breach or leak, and gain insight into third-party risk. DeTCT protects clients' brand and reputation by unravelling copyright infringement and executive impersonation.
Adding CYFIRMA's entire product portfolio to FreeDivision's suite of cybersecurity offerings will help customers in Eastern Europe manage escalating cyber threats and be better prepared to stave off impending cyberattacks. Insights gathered and analysed from DeTCT is purpose-built for each customer and the intelligence provided is designed to help business and technology leaders improve their cyber risk posture and build resiliency.
"At FreeDivision s.r.o., we embrace emerging technologies and bring the best-in-class brand names to suit the changing market needs. CYFIRMA's platform shows the market a whole new way of managing cyberthreats from the 'outside-in' and we find CYFIRMA's innovative thinking and offering particularly valuable in these uncertain times. We look forward to bringing the intelligence-driven approach of cybersecurity to businesses and help them secure critical data and avert cyberattacks," Sandro Huber, Co-founder & Chief Information Officer, FreeDivision s.r.o.
"Forward-thinking organizations are moving rapidly to digital models to capture growth while ensuring cybersecurity strategies stay in tandem with evolving business needs. The unique partnership with FreeDivision s.r.o., give businesses in Eastern Europe access to DeTCT's digital risk monitoring, and combining that with managed services, customers can be assured of end-to-end capabilities to help them fend off cybercriminals," Martin Scherrer, Vice President of Sales, CYFIRMA EMEA.
About FreeDivision
FreeDivision is a leading company in the field of cybersecurity solutions and services in Czech and Slovak Republic. We are searching for the best of breed in the cybersecurity specialization for our enterprise and government clients for more than 17 years. Our company represents several globally renowned manufacturers and brings you their solutions exclusively together with a team of trained professionals and consulting services. Our portfolio currently addresses the technical requirements for meeting the conditions required by the Cyber Security Act, ISO 27001, PCI DSS, HIPAA, GDPR and eIDAS. See more at www.freedivision.com
About CYFIRMA
CYFIRMA is an external threat landscape management platform company. We combine cyber intelligence with attack surface discovery and digital risk protection to deliver early warning, personalized, contextual, outside-in, and multi-layered insights. Our cloud-based AI and ML-powered analytics platform provides the hacker's view with deep insights into the external cyber landscape, helping clients prepare for impending attacks. CYFIRMA is headquartered in Singapore with operations in APAC, EMEA and USA. The company is funded by Goldman Sachs, Zodius Capital, and Z3 Partners. Learn more at www.cyfirma.com