Published On : 2022-12-19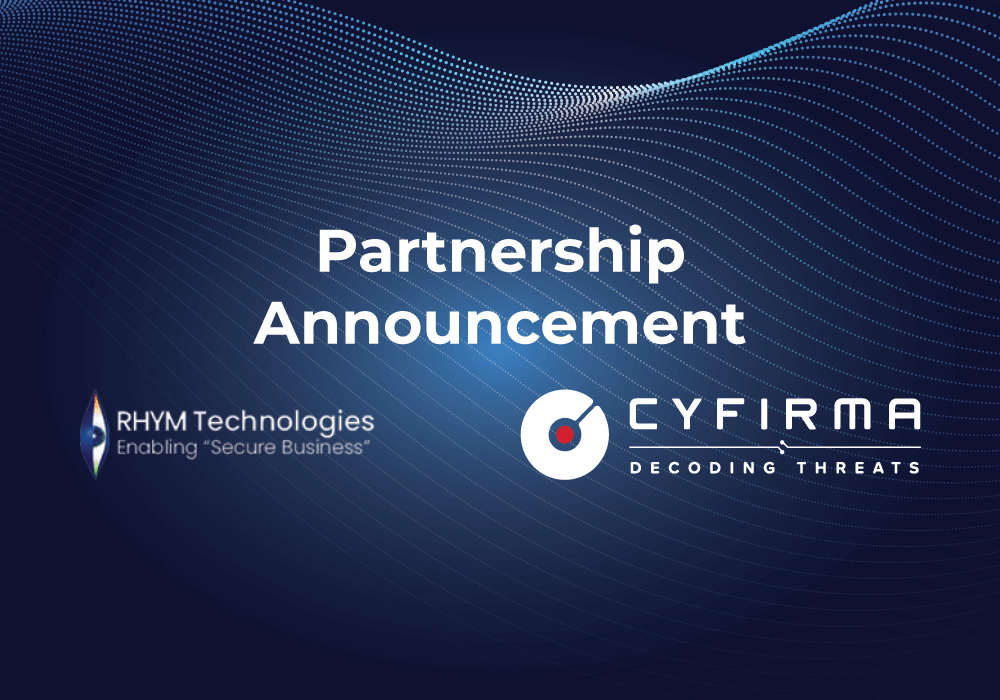 The partnership will provide more choices for organizations looking for a trusted provider with a holistic set of cybersecurity capabilities spanning across protection, prevention, and response and recovery services
Frankfurt, Germany, Dec 19, 2022 / — As part of its market expansion plan, CYFIRMA, an external threat landscape platform company, funded by Goldman Sachs, Zodius Capital and Z3Partners, today announced the appointment of RHYM Technologies as an MSSP partner and reseller for Europe and Middle East markets.
The global threat landscape is constantly changing, creating gaps in an organization's ability to manage and protect data and assets that reside across on-prem, cloud, remote and distributed systems, resulting in a lack of visibility and insights, data sprawl, and greater opportunities for vulnerabilities. Coupled with major shortages in cybersecurity staff and strict budget constraints, organizations are struggling to meet compliance guidelines and keep their data protected. In this collaboration, RHYM Technologies would include CYFIRMA's core products DeCYFIR and DeTCT to its solution portfolio under its unique framework called the 'Wheel of Cyber Defence' where organizations will receive a comprehensive suite of services with just one service provider.
RHYM Technologies' Wheel of Cyber Defence covers 360° posture assessment including internal and external views, cyber risk quantification, SecOps, Disaster-Recovery-as-a-Service and forensics. CYFIRMA's DeCYFIR and DeTCT will significantly enhance RHYM's portfolio particularly its Cyber Threat Intelligence (CTI) pillar.
DeCYFIR is the industry-leading external threat landscape platform that equips governments and businesses with tailored intelligence specific to their industry, geo-location and technology used, and gives clients multi-layered intelligence that includes strategic, management and operational insights. The platform automatically connects the dots between threat actor, motive, campaign and method to predict cyberattacks. With DeCYFIR, client receive insights on attack surfaces, vulnerability intelligence, brand intelligence, digital risk discovery and protection and cyber-intelligence on a single pane of glass.
DeTCT is the cutting-edge digital risk protection platform that identifies and monitors for vulnerabilities and potential attack vectors, data leaks and breaches as well as the risks posed by third parties. Clients also subscribe to DeTCT to protect their brand and reputation by detecting copyright infringement and identity theft.
"When you look at the sheer number of data breaches and cyberattacks, it's clear that throwing more tools and controls at the problem won't make it go away," said Martin Scherrer, VP of Sales at CYFIRMA EMEA. "What's needed is a new approach where the ability to predict impending attacks and knowing what mitigation strategies to deploy on the fly to stop an adversary in his or her tracks. With our partnership, customers will now have a single provider to help them mitigate cyber risk, ensure compliance, reduce management overhead, and avoid the repercussions of a cyberattack."
"Digital transformation is non-negotiable for any business today and so is effectively mitigating the cyber risk that comes along with it. Managing cyber risk requires accurate and timely threat intelligence and embracing enterprise risk management principles. With our cybersecurity platform and service portfolio, we are helping our global clients manage cyber risk as part of business risk mitigation strategies," said Gereon Neuhaus, Co-founder and Managing Director of RHYM TECHNOLOGIES GmbH, Unna, Germany.
"We are excited to partner with CYFIRMA, a market leader in external cyber threat landscape management, to enhance our portfolio with state-of-the art cyber threat intelligence services. CYFIRMA's platforms DeTCT and DeCYFIR bring in the strategic element necessary for effective cyber risk management and overall business strategy. Our partnership helps clients optimize their total cost of ownership on their security investment, giving them the much-needed competitive advantage."
ABOUT RHYM TECHNOLOGIES
RHYM Technologies GmbH is an end-to-end Cybersecurity Services provider headquartered in Germany and having its Operations in India, EMEA, UK and USA. It takes an Ecosystem view of cybersecurity in assessing the cyber risk of an organization covering all the key stakeholders participating in its business value chain. RHYM service portfolio covers the entire spectrum of Cybersecurity services starting from external posture assessment, all the way to Disaster-Recovery-as-a-Service (DRaaS) ensuing business continuity while optimizing the investments in Cybersecurity.
ABOUT CYFIRMA
CYFIRMA is an external threat landscape management platform company. We combine cyber intelligence with attack surface discovery and digital risk protection to deliver early warning, personalized, contextual, outside-in, and multi-layered insights. Our cloud-based AI and ML-powered analytics platform provides the hacker's view with deep insights into the external cyber landscape, helping clients prepare for impending attacks. CYFIRMA is headquartered in Singapore with operations in APAC, EMEA and USA. The company is funded by Goldman Sachs, Zodius Capital, and Z3 Partners.