Published On : 2023-02-02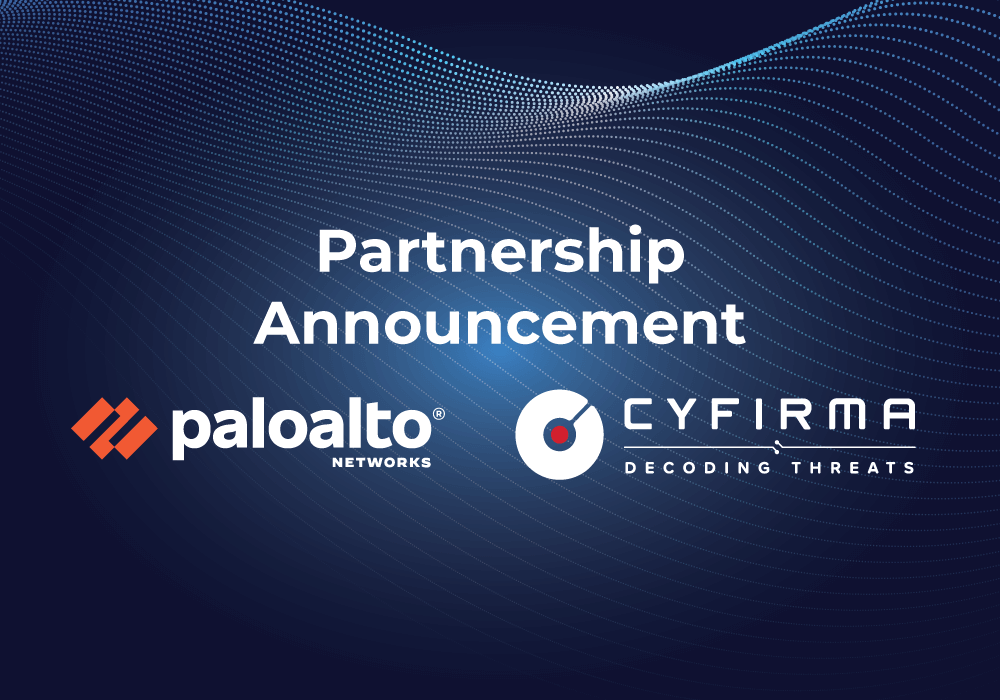 CYFIRMA expands technology integration capabilities with Palo Alto Networks, empowers security teams with external threat landscape intelligence to help them prepare for cyberattacks and mitigate digital risk
CYFIRMA, the industry's leading external threat landscape management platform company, today announced a new integration between CYFIRMA's DeCYFIR and Palo Alto Networks' Cortex XSOAR platforms. As part of Palo Alto Networks Technology Partner Program and completing the integration, CYFIRMA can now deliver comprehensive threat and digital risk insights to Palo Alto Networks customers globally.
With this integration, CYFIRMA's rich, real-time threat intelligence will be accessible directly from Palo Alto Networks' Cortex XSOAR platform. Security teams will receive alerts on sensitive and private information that has been exposed on social media and public platforms, occurrence of executive impersonation and brand infringement, potential attack surfaces, and data that has been leaked or breached. This gives organizations the awareness they need to comprehensively identify, prioritize and resolve threats coming from beyond the perimeter, expanding Palo Alto's Cortex XSOAR advanced security and analytics capabilities. Working in tandem, CYFIRMA's DeCYFIR and Palo Alto Cortex XSOAR will help enterprises validate and add confidence to existing policies and build adaptive defense strategies that can mitigate emerging threats effectively.
"Given the confluence of rising geopolitical tensions, economic crisis, and an uptick on cybercriminal activities, organizations need to be acutely aware of their changing threat landscape and take proactive measures to avert any untoward cyber events. This can only be achieved if there is active monitoring of the external threat environment. We see our integration with Palo Alto as yet another important step to give defenders the tools they need to keep adversaries at bay," said Kumar Ritesh, Founder and CEO at CYFIRMA.
The API to integrate CYFIRMA's DeCYFIR threat insights to Palo Alto Cortex XSOAR is now available here: https://cortex.marketplace.pan.dev/marketplace/details/DeCYFIR/