Published On : 2023-01-13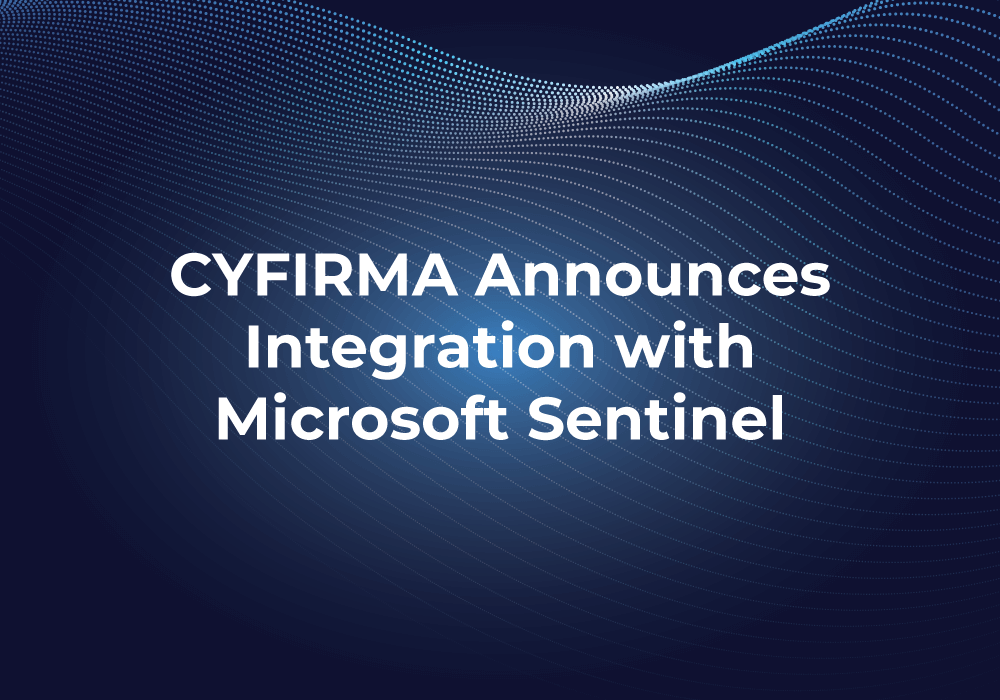 CYFIRMA expands technology integration capabilities with Microsoft, providing threat visibility that helps organizations prepare for cyberattacks and expedite remediation at scale directly from the Microsoft Sentinel console
Singapore, Singapore, Jan 13, 2022 – CYFIRMA, the industry's leading external threat landscape management platform company, today announced the integration between CYFIRMA's DeCYFIR platform and Microsoft Sentinel.
With this integration of CYFIRMA TAXII server and Microsoft Sentinel TAXII client, CYFIRMA's rich, real-time threat data will be accessible directly from the Microsoft Sentinel platform. This enables IT organizations to comprehensively identify and resolve threats automatically, extending Microsoft Sentinel's advanced security and analytics capabilities. The integration allows security practitioners to manage the entire lifecycle from threat detection, investigation, triage to prioritization and remediation without leaving the Microsoft Sentinel console.
CYFIRMA's threat intelligence provides contextual insights showing the linkages between the threat actor, their motive, the type of campaign, and attack method so that remedial actions are targeted and precise. It empowers the security team with visibility to the organization's external digital footprint and help them understand how their vulnerabilities can be exploited by cybercriminals. Working in tandem with Microsoft Sentinel's orchestration capabilities, CYFIRMA's intelligence guides incident responders and threat hunters on actions they can take including quarantining a device, deploying a patch, or updating software, all from the Microsoft Sentinel console. Customers benefit from predictive, proactive, and automated management of their entire IT stack.
"We're excited to embark on our strategic relationship with Microsoft," said Kumar Ritesh, Founder and CEO at CYFIRMA. "Our collaboration will give government and businesses the tools they need to fight today's cybercrime. The increasingly volatile threat landscape has underscored the importance of external threat visibility and organizations need to prepare for attacks to come from both inside and outside their networks. By integrating with Microsoft Sentinel, we are taking an important step to help customers mitigate risk and protect assets as they continue to journey towards growth."
"Today, we live in an era where threat actors are constantly attacking organizations. SOC analysts need to prioritize incidents for triage to remain protected and threat intelligence can be game changing in helping analysts do so. With the CYFIRMA and Microsoft Sentinel integration, customers will now have an easy way to import high fidelity threat intelligence produced by CYFIRMA into Microsoft Sentinel using the industry standard of STIX/TAXII. This threat intelligence will then be available in Microsoft Sentinel for investigation/hunting and can also be disseminated to other security controls of the organization." says Eric Burkholder, senior program manager, Microsoft Sentinel at Microsoft Corp.
ABOUT CYFIRMA
CYFIRMA is an external threat landscape management platform company. We combine cyber intelligence with attack surface discovery and digital risk protection to deliver early warning, personalized, contextual, outside-in, and multi-layered insights. Our cloud-based AI and ML-powered analytics platforms provide the hacker's view with deep insights into the external cyber landscape, helping clients prepare for impending attacks. CYFIRMA is headquartered in Singapore with offices in Japan, India, US and EU. The company is funded by Goldman Sachs, Zodius Capital, and Z3 Partners.