Published On : 2023-01-28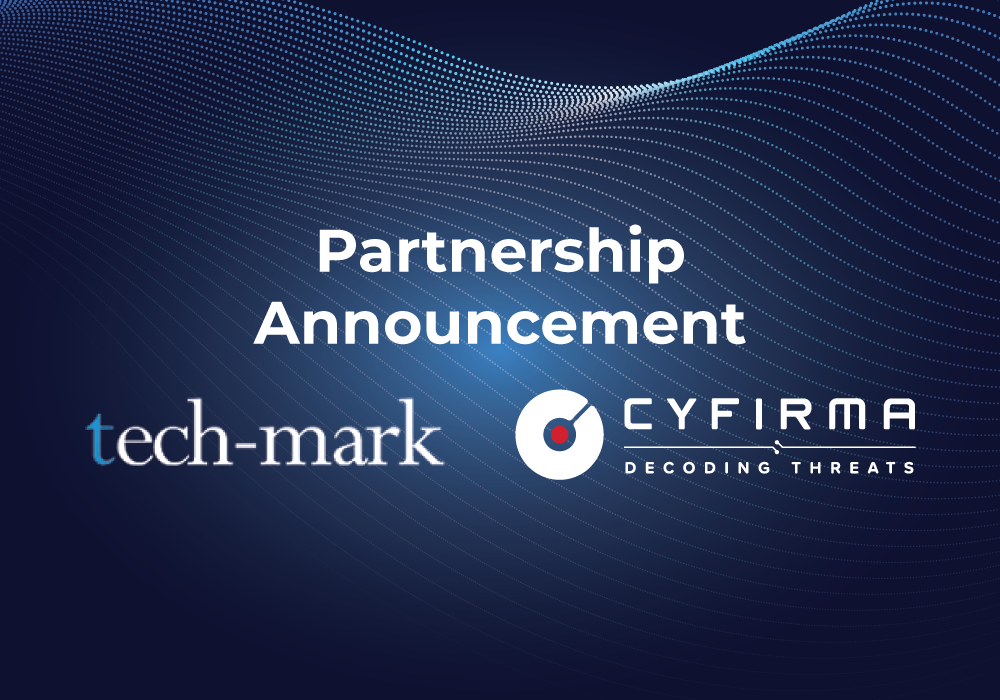 CYFIRMA's core platforms, DeCYFIR and DeTCT, will equip the public sector with insights on the external threat landscape and actions it can take to strengthens its cyber posture
Bengaluru, India, Jan 27, 2023 / — As part of its market expansion plan, CYFIRMA, an external threat landscape platform company, funded by Goldman Sachs, Zodius Capital and Z3Partners, today announced a strategic collaboration with Tech Mark Training India, a technology enabler helping hundreds of startups foster innovation with various state governments. The partnership aims to deliver CYFIRMA's core cyber-intelligence and digital risk monitoring platforms to both central and state government in India as well as public sector agencies and Indian businesses.
With the global threat landscape becoming increasingly complex, many governments are fighting cyberwars with odds stacked against them. In India alone, almost 700,000 cybersecurity incidents were reported in the first six months of 2022, according to the Computer Emergency Response Team (CERT). CYFIRMA and Tech Mark are collaborating to bring an innovative approach to help Indian public sector organizations turn the tide on cybercrime. Instead of relying on conventional cybersecurity strategies and controls, CYFIRMA and Tech Mark will bring an 'outside-in' view where government organizations can see through the hacker's lens and start using predictive intelligence to mitigate risk. CYFIRMA's unique approach of uncovering risks and threat indicators at the planning stage, versus the execution and exploitation phase of a cyberattack, allows government organizations to stay ahead of cybercriminals.
CYFIRMA's external threat landscape management platforms, DeCYFIR and DeTCT, will provide advanced threat monitoring and analytics to help defenders establish effective controls around the public sector organization's most sensitive assets and balance the need to reduce risk while enabling frictionless access to public services.
DeCYFIR is the industry-leading external threat landscape platform that equips governments and businesses with tailored intelligence specific to their industry, geo-location and technology used, and gives clients multi-layered intelligence that includes strategic, management and operational insights. The platform automatically connects the dots between threat actor, motive, campaign and method to predict cyberattacks. With DeCYFIR, defenders receive insights on attack surfaces, vulnerability intelligence, brand intelligence, digital risk discovery and protection and cyber-intelligence on a single pane of glass.
DeTCT is the cutting-edge digital risk protection platform that identifies and monitors for vulnerabilities and potential attack vectors, data leaks and breaches as well as the risks posed by third parties. DeTCT protects brand and reputation by detecting copyright infringement and identity theft.
"When you look at the sheer number of data breaches and cyberattacks, it's clear that organizations need a different set of arsenals to fight the unseen enemy. What's needed is a new approach where the ability to
predict impending attacks and knowing what mitigation strategies to deploy on the fly to stop an adversary in his or her tracks," said Amit Thakur, Global Head of Corporate Development and Strategic Alliances at CYFIRMA. "We are excited to partner with Tech Mark, and together we shall work towards helping the public sector build greater agility to detect threats and expedite remediations, and contribute towards making India's cyberspace safer for businesses and citizens to live, work and play."
"With the increasing frequency of cyber threats, it's crucial for organizations to have a comprehensive defense strategy in place. This requires a proactive approach, one that involves anticipating potential attacks and having the tools to quickly and effectively neutralize them. By partnering with CYFIRMA, we're working to empower businesses and government agencies in various state governments of India to stay ahead of the curve and protect their assets and reputation," said Satish Babu, Founder & CEO, Tech-Mark.
ABOUT TECH MARK
Tech-Mark has a long-standing reputation of working closely with state governments throughout India, supporting and implementing government initiatives, startups and fostering innovation. As a technology enabler, Tech-Mark has served hundreds of clients globally. In addition, the company is a prominent organizer of the Global Technology, Skill & MSME Expo in India, one of the country's largest events of its kind. To further promote upskilling and digitalization, the company is launching a new nationwide initiative in partnership with various state governments.
ABOUT CYFIRMA
CYFIRMA is an external threat landscape management platform company. We combine cyber intelligence with attack surface discovery and digital risk protection to deliver early warning, personalized, contextual, outside-in, and multi-layered insights. Our cloud-based AI and ML-powered analytics platforms provide the hacker's view with deep insights into the external cyber landscape, helping clients prepare for impending attacks. CYFIRMA is headquartered in Singapore with operations in APAC, EMEA and USA. The company is funded by Goldman Sachs, Zodius Capital, and Z3 Partners.