Published On : 2023-07-26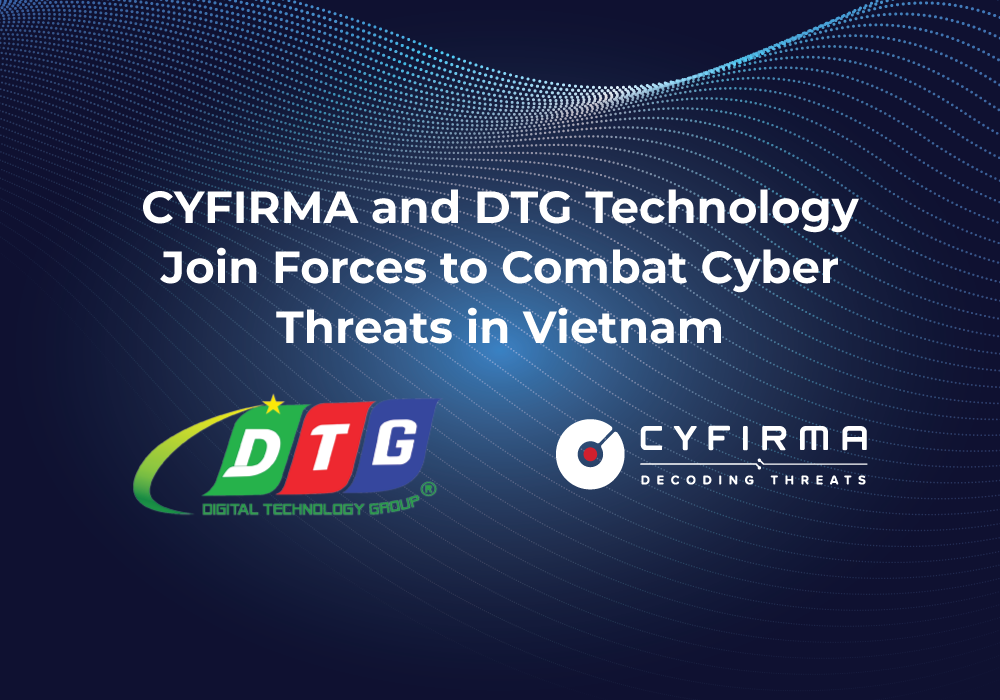 [Singapore & Vietnam – 26th Jul, 2023]
CYFIRMA, a leading provider of cyber threat intelligence and monitoring services, is delighted to announce its strategic partnership with DTG Technology, a prominent technology solutions provider in Vietnam. This collaboration aims to strengthen cybersecurity resilience in Vietnam, particularly in the face of the volatile geopolitical climate and the rise of emerging threat actors, malicious campaigns, and advanced persistent threats.
In today's interconnected world, where digital transformation is rapidly shaping industries and governments, the threat landscape has become increasingly complex and dynamic. Vietnam, like many nations, has experienced an escalation in cyber threats that pose significant risks to businesses, critical infrastructure, and national security. Recognizing the urgency of the situation, CYFIRMA and DTG Technology have joined forces to provide comprehensive cyber threat intelligence solutions tailored to the specific needs of the Vietnamese market.
The partnership leverages CYFIRMA's cutting-edge AI-powered cyber intelligence platform, DeCYFIR, which enables organizations to proactively identify, monitor, and respond to cyber threats. DeCYFIR's unique predictive intelligence capabilities, coupled with its extensive visibility into the dark web and deep web, empower organizations to stay ahead of threat actors and identify potential vulnerabilities that could be exploited. This proactive approach ensures that organizations are well-equipped to mitigate risks and protect their digital assets.
DTG Technology brings its extensive expertise in providing technology solutions to diverse industries in Vietnam. The collaboration between CYFIRMA and DTG Technology will enable Vietnamese organizations to access CYFIRMA's comprehensive suite of cyber threat intelligence solutions, backed by DTG Technology's strong local presence, deep customer relationships, and technical support capabilities. This combined expertise will enhance the cybersecurity posture of organizations across Vietnam, from small and medium-sized enterprises to large corporations.
"We are witnessing a dangerous game of catch-up as nations grapple with the ever-growing threat landscape posed by well-funded and highly innovative cybercriminals. The gap between their capabilities and the efforts to mitigate risks is widening, leaving organizations vulnerable to devastating attacks. It is imperative that defenders are equipped with cyber-intelligence that allows them to monitor, identify and mitigate risks and stay ahead of these relentless adversaries. By combining CYFIRMA's advanced external threat landscape intelligence capabilities with DTG Technology's extensive local expertise, we aim to empower Vietnamese organizations to navigate the complex cyber threat landscape with confidence and continue the push towards digital modernization and growth," said Kumar Ritesh, Founder and CEO of CYFIRMA.
Mr. Tran Quoc Hoan, Chairman and CEO of DTG Technology, shared his enthusiasm about the partnership, stating, "Vietnamese organizations are increasingly recognizing the importance of robust cybersecurity measures. Our collaboration with CYFIRMA will enable us to offer cutting-edge cyber threat intelligence solutions to our customers, ensuring that they have the necessary tools and insights to stay ahead of evolving threats. We are excited to work together to enhance Vietnam's cybersecurity resilience."
CYFIRMA and DTG Technology are committed to delivering comprehensive cyber threat intelligence solutions that empower businesses with the knowledge, tools, and capabilities needed to safeguard their digital assets.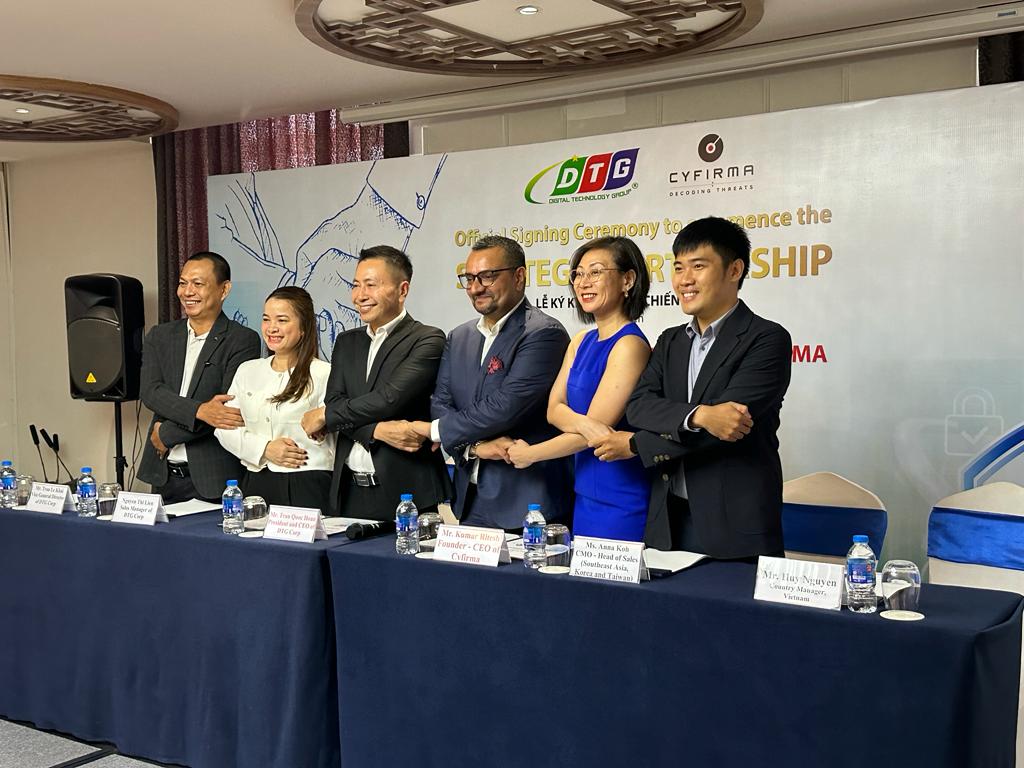 About DTG Technology
DTG Technology is a trusted technology solutions provider in Vietnam, offering a wide range of IT services to diverse industries. With its strong local presence, deep customer relationships, and technical expertise, DTG Technology is committed to delivering innovative technology solutions that drive digital transformation and enhance operational efficiency for organizations across Vietnam. www.dtgcorp.com.vn.
ABOUT CYFIRMA
CYFIRMA is an external threat landscape management platform company. We combine cyber intelligence with attack surface discovery and digital risk protection to deliver early warning, personalized, contextual, outside-in, and multi-layered insights. Our cloud-based AI and ML-powered analytics platforms provide the hacker's view with deep insights into the external cyber landscape, helping clients prepare for impending attacks. CYFIRMA is headquartered in Singapore with offices in Japan, India, the US, and the EU. Customers include both government as well as Fortune 500 companies across manufacturing, financial services, retail, industrial products, natural resources and pharmaceutical industries. www.cyfirma.com.