Published On : 2022-12-09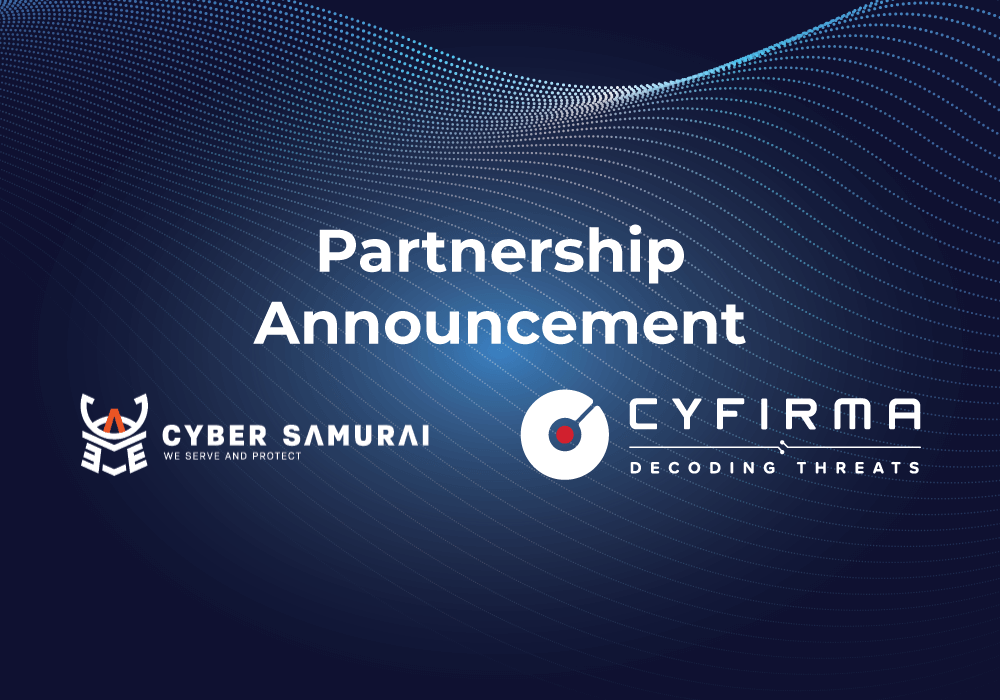 The combined expertise builds on Cyber Samurai's in-depth knowledge of the European market, proven capabilities on delivering complete security solutions and CYFIRMA's innovative technology offerings
Frankfurt, Germany, Dec 09, 2022 – As part of its market expansion plan, CYFIRMA, an external threat landscape management company, funded by Goldman Sachs, Zodius Capital and Z3Partners, today announced its new partnership with Cyber Samurai GmbH, a cybersecurity consultancy and service provider in Europe.
Cyber Samurai offers a wide range of cybersecurity products and solutions to customers across both public and private sectors. Its portfolio consists of consultancy, implementation and maintenance services in the areas of security awareness campaigns, phishing tests, IT-security checks, Information Security Management System (ISMS) implementation, vulnerability scans and pen-testing. As more customers digitalize their systems and processes, the risk of succumbing to data breaches and cyberattacks has increased significantly. To address this urgent need, Cyber Samurai will now enhance its managed services portfolio with CYFIRMA's DeCYFIR and DeTCT platforms.
DeCYFIR is the industry's only external threat landscape management platform that gives customers six key views on a single pane of glass – attack surface discovery, vulnerability intelligence, brand intelligence, digital risk discovery and protection, situational awareness and cyber-intelligence. Combined, they provide a view through the hacker's lens with early warnings on potential attacks targeting customers. The intelligence presented in the DeCYFIR platform is curated for each customer, reducing noise and ensuring accuracy of telemetry and analytics.
DeTCT is the leading digital risk monitoring and protection platform designed to help organizations monitor attack surfaces, uncover vulnerabilities, data breach or leak, and gain insight into third-party risk. DeTCT offers brand and reputation protection by unravelling copyright infringement and executive impersonation.
Adding CYFIRMA's platforms to Cyber Samurai's suite of service offerings will help customers manage emerging threats ranging from ransomware attacks, business email compromise, remote code execution, phishing and social engineering attacks and much more. Insights from DeCYFIR and DeTCT can be used to help customers improve efficiency and effectiveness of security controls, develop stronger cyber posture and enhance cybersecurity maturity.
According to Nicolas Leiser, Managing Director of Cyber Samurai GmbH, "Cyber-intelligence and dark web monitoring open a new era in security awareness campaigns. Awareness measures can build on leaked information in a targeted manner and significantly increase the security level based on real-time identified threat situation."
"Organizations need a different approach to mitigate threats as attacks multiply and increase in sophistication," said Martin Scherrer, Vice President of Sales, CYFIRMA EMEA. "Conventional methods of conducting annual pen test and building perimeter defence isn't enough. Cybersecurity strategies must be agile to meet emerging threats and this where cyber intelligence plays a crucial role. In this partnership, we want to harness intelligence from our platforms to effect change across people behaviour and culture, process and technology, and help our clients solve cybersecurity challenges by using a whole-of-organization approach."
About Cyber Samurai GmbH
Cyber Samurai GmbH, is an IT security service provider for the protection of organizations and companies against threats from cyber criminals. The focus is on security awareness campaigns using dark web information to make employees an active member of the IT security strategy and to demonstrably reduce IT security risks. Through a professional Security-Awareness-as-a-Service approach, the doing is outsourced. Cyber Samurai GmbH is located in Germany and partners with market leading companies in the IT-Security area. Learn more at www.cyber-samurai.net
About CYFIRMA
CYFIRMA is an external threat landscape management platform company. We combine cyber intelligence with attack surface discovery and digital risk protection to deliver early warning, personalized, contextual, outside-in, and multi-layered insights. Our cloud-based AI and ML-powered analytics platform provides the hacker's view with deep insights into the external cyber landscape, helping clients prepare for impending attacks. CYFIRMA is headquartered in Singapore with operations in APAC, EMEA and USA. The company is funded by Goldman Sachs, Zodius Capital, and Z3 Partners. Learn more at www.cyfirma.com