Published On : 2022-09-08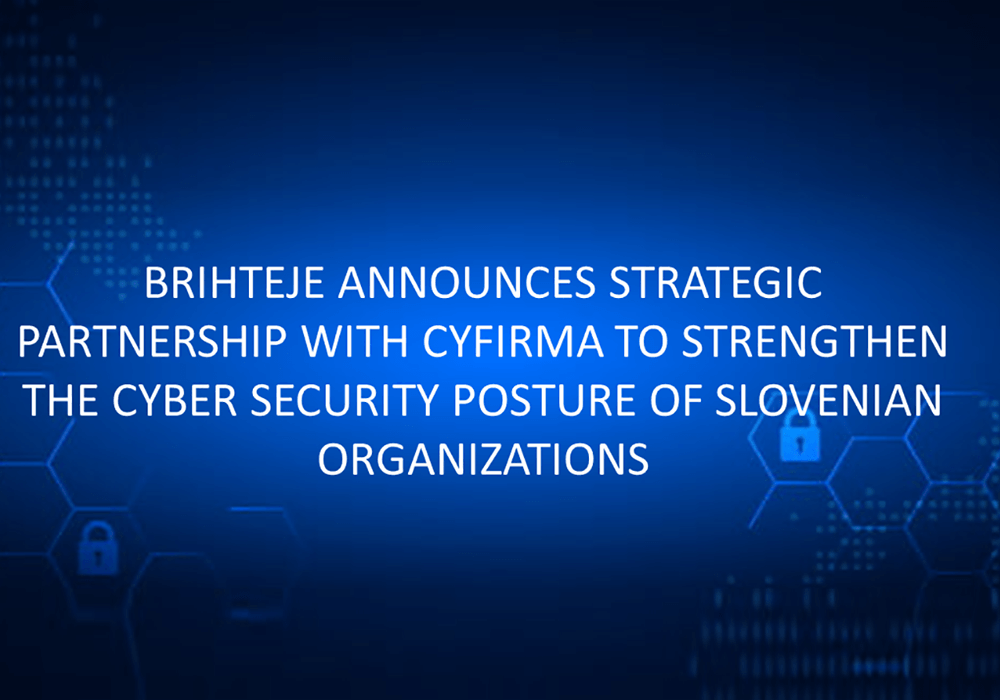 BRIHTEJE PARTNERS WITH CYFIRMA TO STRENGTHEN THE CYBER POSTURE OF SLOVENIAN ORGANIZATIONS
Slovenian companies and public institutions will have peace of mind with a new contribution in the field of cyber security, an advanced turnkey service offered exclusively for Slovenia by the company Brihteja
Most organizations are aware that in order to ensure reliable and secure digital business, they need to increase investment to protect against cyber risks. The Brihteja company has upgraded its cyber security offering with an advanced turnkey service to provide a unique insight into the vulnerability of companies from the point of view of cyber criminals using predictive analytics.
Based on external threat intelligence platforms, DeCYFIR and DeTCT, Brihteja will offer managed services using their own experts.
"Companies are primarily concerned with internal cyber security, whereby they search for and eliminate threats within the business network with various security tools and solutions. With increasing digitization, they are beginning to be aware of their exposure in external cyberspace, which requires a completely new level of detection, monitoring and protection," said Samo Ratej, director of Brihteja.
In Brihteja, organizations will be able to access managed detection, notification and response services to external cyber threats based on the partnership with CYFIRMA.
"With the managed services, we want our clients to focus on growing their business and let us manage their cybersecurity concerns," added Ratej.
The external cyber defense services offered by Brihteja include uncovering hacker attack vectors, monitoring for vulnerabilities that can be exploited by external attackers, understanding digital profiles, detecting digital risks, and situational awareness and informing clients about events and trends in cyberspace that would impact them. In addition, the services enable companies to continuously detect vulnerable systems and hidden attack surfaces, as well as leaked data and employee identity impersonation.
With constant monitoring, clients can easily update and protect applications and services to eliminate vulnerabilities created by increasingly sophisticated cyber threats.
Brihteja and CYFIRMAwill present themselves for the first time at the 20th traditional INFOSEK conference , which takes place between September 7 and September 9, 2022 in Nova Gorica.

ABOUT THE COMPANY
Brihteja is a company for innovative information solutions and services, whose activity is divided into three pillars. The company plans, establishes and protects information and communication infrastructure in small, medium and large companies. It provides consulting services for investments in business information and communication technologies and manages and maintains hardware and system and user software. Brihteja is one of the leading European companies for identity management in the information environments of financial institutions, large companies and public administration.
Media Contact
Samo Ratej, director of
Brihteja, doo
Mariborska cesta 7
3000 Celje
Phone (switchboard): 03 828 0 310
Mobile phone: 051 653 035
E-mail: [email protected]
Website: www.brihteja.si