Published On : 2022-11-30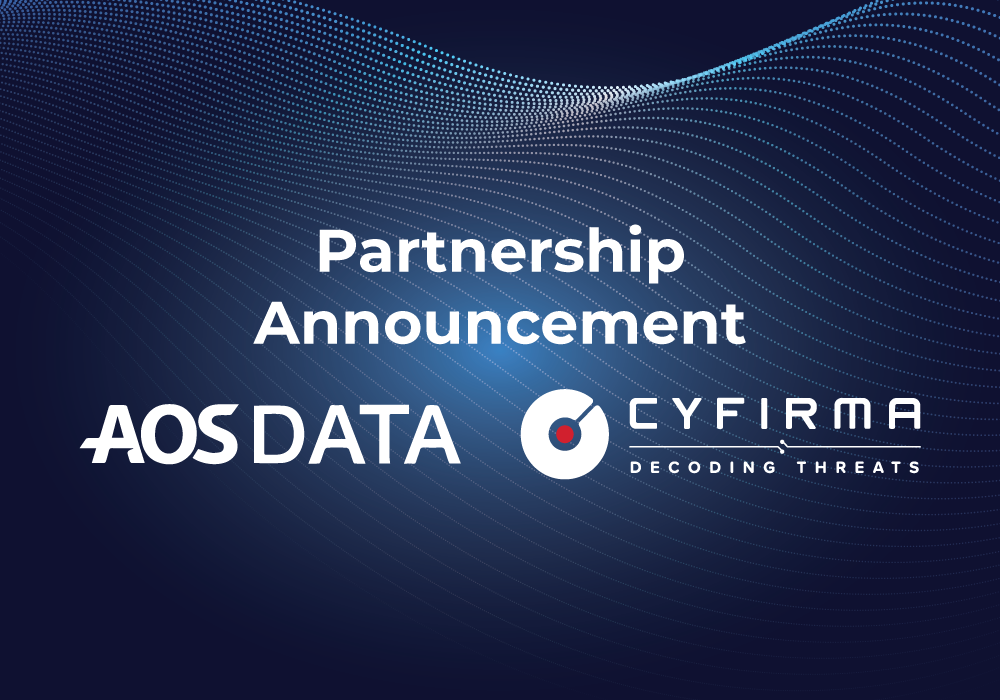 AOS Data and CYFIRMA Launch Attack Surface Analytics Service to Provide Next-Generation Digital Risk Management
Tokyo, Japan, Dec 1, 2022 – AOS Data Co., Ltd. (Headquarters: Minato-ku, Tokyo, President & CEO: You Haruyama), a leading data management company specializing in managing cloud, system, legal and AI data, today announced it has partnered with CYFIRMA K.K. Co., Ltd. (Japan Headquarters: Chiyoda-ku, Tokyo, Representative Director: Kumar Ritesh, hereinafter referred to as CYFIRMA) to launch Attack Surface Analytics Service (ASAS).
According to the National Police Agency, Japan saw an 87 percent increase in ransomware attacks in the first half of 2022 compared with the year before. Hacker groups continue to capitalize on the current climate of escalating geopolitical tension, economic volatility and rapid digitalization to launch attacks against both government and commercial organizations.
The push towards digital services and remote work has brought about an increase in cyber risk as IT and security departments' ability to track, monitor and secure networks and endpoints has diminished. With many cloud services coming online and employees working outside the security of their corporate networks, new attack surfaces have emerged. Having the technology and skill to monitor these potential entry points, and then take swift remedial actions, is key to thwarting cyberattacks and minimizing damage.
With this collaboration, CYFIRMA's digital risk discovery and protection platform will be used in conjunction with AOS Data's professional services to provide the new Attack Surface Analytics Service (ASAS). This new service will also complement AOS Data's existing Forensic Service to give deeper insights to enhance post-incident investigations.
What is Attack Surface Analytics Service (ASAS)?
ASAS provides visibility into an organization's entire external digital footprint, shadow IT and forgotten systems. It has the following functions:
Uncover externally accessible assets
Reveal vulnerabilities of external facing assets
Identify certificate weaknesses
Uncover vulnerable ports
Provide leaked credential information
With ASAS, solutions to eliminate vulnerabilities and mitigate risk can be implemented to strengthen the organization's overall cyber posture.
Quote from CYFIRMA
"CYFIRMA's portfolio of cybersecurity products complements businesses increasing demand for connectivity and digital-everything model. Our collaboration with AOS Data gives businesses an assurance to drive meaningful innovation without the fear of cyberattacks. Our end-to-end solution not only helps uncover their potential attack surfaces but also provides the services needed to make them stronger to fight off cybercriminals. Partnering with AOS Data is a significant milestone, and our team looks forward to working closely with AOS Data," said Kumar Ritesh, Founder and CEO, CYFIRMA.
Quote from AOS Data
"Since 2001, AOS Data has been providing forensic services to restore evidence data as a post-incident measure and has supported many companies. We are delighted that this collaboration with CYFIRMA has enabled us to provide a service that diagnoses cyber risks that have not surfaced in companies. By teaming with CYFIRMA, we will protect the digital assets of companies from cyberattacks and contribute to making our society safer for all," said Yoshiaki Morita, General Manager of Legal Data Division, AOS Data.
About CYFIRMA
(www.cyfirma.com/jp)
Name: CYFIRMA Co., Ltd
Representative: Kumar Ritesh Established: 2017
Location: 100-0004 Otemachi One Tower 6F, 1-2-1 Otemachi, Chiyoda-ku, Tokyo
CYFIRMA is an external threat landscape management platform company. We combine cyber intelligence with attack surface discovery and digital risk protection to deliver early warning, personalized, contextual, outside-in, and multi-layered insights. Our cloud-based AI and ML-powered analytics platforms provide the hacker's view with deep insights into the external cyber landscape, helping clients prepare for impending attacks. CYFIRMA is headquartered in Singapore with offices across APAC, US and EMEA. The company is funded by Goldman Sachs, Zodius Capital, and Z3 Partners.
About AOS Data Inc.
(www.aosdata.co.jp)
Name: AOS Data Inc.
Representative: You Haruyama Established: April 2015
Capital: 100 million yen (capital reserve: 1.525 billion yen)
Location: Metro City Kamiyacho 4F, 5-1-5 Toranomon, Minato-ku, Tokyo
AOS Data is a leading data asset management company focusing on data from the cloud as well as IT systems, legal data, and AI data. We have received the Minister of Economy, Trade and Industry Award for our technology that supports the resolution of numerous cases by investigation agencies, law firms, and major companies. We help restore evidence data and uncover evidence as well as through our "Data Asset Management" solution, help companies with data compliance and manage their AI/DX data. We contribute to society by supporting the comprehensive protection of our customers' data assets.